March 1, 2012
Beyond The Wealth: All Families Need an Estate Plan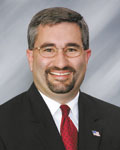 By Curt Ford
Nash Nash Bean & Ford
Have you ever thought "Hey, I'm not Bill Gates… I don't have to worry about my estate!"
If so, you can join plenty of other people who thought that way; people who thought wrong because a comprehensive estate plan is more than the simple distribution of your
financial assets.
A complete estate plan should:
• Ensure your family is provided for in case of your death. While this may include the smooth transfer of assets to your remaining spouse or children, you need to consider supplementary items, such as additional life insurance, to provide further income as your family grows and matures.
• Ensure you and your family are protected if you would become incapacitated. Your estate plan should include a Healthcare Power of Attorney, a HIPAA document and a Living Will to legally allow your family to oversee and direct your healthcare if you are unable to share your wishes. In addition, a Property Power of Attorney will allow them to oversee any property you may own at the same time such as real estate, automobiles and bank accounts.
• Ensure your minor children have the guardians of your choice. What would happen to your children if both their parents die? To ensure your children are raised through your wishes, your estate plan must include framework that names guardians for your children. Without this legal understanding, well-intentioned relatives and friends could increase the stress for your children during a difficult time through arguments, or even court battles to determine the care of minor children.
• Ensure your legacy. How do you want to be remembered? Can you be sure your first baseball glove will go to your oldest son? What is important for your children to know about you? Your estate plan can become the vehicle to not only distribute personal property but to also share your values and stories with your children and future generations.
You don't have to be wealthy to create a comprehensive estate plan. In fact, some of the most important portions of a plan have nothing to do with money and everything to do with the safety and care of your family.
Nash Nash Bean & Ford, LLP are members of the American Academy of Estate Planning Attorneys and the National Academy of Elder Law Attorneys. To receive a copy of our most recent newsletter, "Your Estate Matters" or for a free consultation on Estate or Long Term Care planning, call (309) 944-2188, (309) 762-9368 or 1-800-644-5345. You may also contact our firm by email at info@nashbeanford.com or visit our website at www.nashbeanford.com.
The firm devotes its practice primarily in the areas of estate, business and tax planning and related areas of the law as well as elder law and trust administration and probate. We offer guidance and advice to our clients in every area of estate planning.
This column is designed for general information purposes only and is not intended, nor should be construed or relied upon, as legal advice. Please consult your attorney if specific legal information is desired.
Tags: Amp, Automobiles, Bank Accounts, Baseball Glove, Bill Gates, Court Battles, Financial Assets, Ford, Future Generations, Guardians, Legacy, Life Insurance, Nash, Parents, Personal Property, Power Of Attorney, Real Estate, Relatives, Smooth Transfer, Stress
Trackback URL: https://www.50pluslife.com/2012/03/01/beyond-the-wealth-all-families-need-an-estate-plan/trackback/