March 1, 2012
In and Out of the Quad-Cities – When the Saints Come Marching In
Contributed by Gail McPike and Toni Hall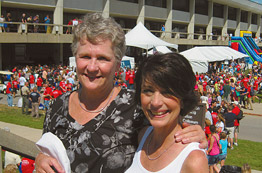 When the Saints Come Marching In
We can't help but notice the preponderance of Saints playing a role in the festivities one experiences this time of year. All religious overtones aside, the span between mid-February, and the end of March is chocked full of Saintly references.
If Saint Valentine were with us today, we are quite certain he would drive a long shiny red Lincoln Continental Sedan equipped with a "Cupids do it with arrows" bumper sticker and vanity plates spelling our "HEART1." Much more, we know he would be a serious minded young guy with a gentle soul and a bent for mushy music. How do we know this kind of thing?
We have an extra special relationship with old Valentine, as our own Toni and her Current Trophy Husband, Phil, were joined in the wonderful bonds of matrimony on Valentine's Day a decade ago. And, CTH, Frank, has a soft heart because his parents were married on Valentine's Day, and his beloved twin sisters were born on that very day. So, Saint Valentine is an intimate friend.
But before we go on, this isn't an ode to that gentle soul and patron saint of lovers everywhere. This is a tribute to our special time of year – a time when Saints form up in marshal formation. Allow us to take you to another Saintly scene. This one is in St. Louis. More precisely, we find ourselves in the Historic Parish of the Saints Peter and Paul Catholic Church in the old Soulard District. Specifically, we refer to the Second Mardi Gras of North America. This isn't some cheap imitation event. It has all the trimmings of the Crescent City Mardi Gras. But, first…
For those of you who managed to snooze through this section of your 7th grade history class, back "in the day," St. Louis was a French City. But, Thomas Jefferson expanded the country by buying the great trans-Mississippi west – they called it the Louisiana Purchase. Somehow, St. Louis and (what 36 years later would become) Davenport got tossed into the deal. We can only wonder if this was an early example of the Baker's Dozen concept.
St. Louis is the home of The Jefferson National Expansion Memorial – aka "The Arch." St. Louis' Forest Park was the home of the St. Louis World's Fair. Remember "Meet me in Saint Louie, Louie … meet me at the Fair?" Well this little shindig hosted the first Olympic Games in the United States, and introduced the world to something near and dear to our hearts – the ice cream cone. Now back to our marching saint story already in progress – we do get sidetracked sometimes don't we?
Mardi Gras celebrations are famous for their parades. And, Saint Louis had a parade of massive proportions. We'll give you the Grand Marshall's play by play later, but suffice to say this parade was huge. The thing lasted well over two and a half hours and featured a cool 100 floats. Bicycles, motorcycles, floats shaped like tropical islands and floats carrying pirates worked their way down crowd-lined city streets. In amongst the Shriners in clown cars and horse drawn wagons, we saw our favorite walking group – a dozen folks walking with Paper-Mache toilets as their costume.
The Mardi Gras colors are purple, green and gold – purple for justice, green for faith and gold for power. This color scheme was everywhere – from the roofs and railings of homes to flags and banners. Pirates, Pilgrims and Parrot Heads donned in these colors amused the crowd by tossing out a King's Ransom in multi-colored beads. Remember scrambling for candy as the parade went by as a kid? Well today kids of all ages fight for the beads, tossed literally by the hundreds of thousands.
Let's move along from the Saints of Saint Louis to the coming attraction's list of Saint Days ahead. A couple of minor ones – first comes Sadie Hawkins. Well, actually not a Saint, but Sadie sounds just like saint if you say it right. And it is an event – because the girls get to ask the boys to dance. Since we are always the ones who have to hustle our honeys out to the dance floor, it's always Sadie Hawkins for us.
Then we move on to Saint Patrick. Unlike the soft spoken Valentine, we imagine Saint Patrick to be a muscular square shouldered sort of guy. Remember before his famous episode clearing the snakes from the Emerald Isle, he was actually captured and forced into slavery. And, in our minds eye, he can be boisterous, too. Strangely, Saint Patrick's Day is marked by another parade. The QC Saint Patrick's event is a real keeper.
Finally a few loose ends – in Cedar Rapids the Bohemians celebrate St. Joseph's day with you guessed it a parade and "Czech" red beer. At this event they definitely take Czechs…
You all have a great March. Please excuse our silliness at the Saint's expense. Don't forget to check out the many fabulous Lenten fish fries. We hope to see you out and about…
Tags: Cheap Imitation, Crescent City, Gentle Soul, Grade History Class, Lincoln Continental, Louisiana Purchase, Mcpike, Mississippi West, Patron Saint, Paul Catholic Church, Religious Overtones, Saint Valentine, Saints Peter And Paul, Saints Peter And Paul Catholic Church, Soft Heart, Soulard District, Trans Mississippi, Trophy Husband, Valentine S Day, Vanity Plates
Trackback URL: https://www.50pluslife.com/2012/03/01/in-and-out-of-the-quad-cities-when-the-saints-come-marching-in/trackback/