March 1, 2012
Irish Luck Shines on Ridgecrest Retirement Village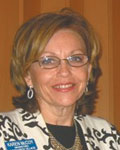 By Karen McCoy
Marketing Consultant
Ridgecrest Village
With the Ides of March upon us, Ridgecrest Village Senior Community is proud to say that we have among us one of the Irish Mothers of the Year. Joan Resnick, "Irish Mother of the Year," 1999. As with many of the residents at Ridgecrest Village, Joan has a history of living life and continues to enjoy her active lifestyle. She is still very active throughout the Quad-Cities community. I was honored to have had the chance to interview Joan and learn about her life, her family and her beliefs.
In 1999, Joan Resnick was voted Irish Mother of the Year for the Quad-Cities St. Patrick's Society. To be nominated and receive the title is quite an honor. "Irish Mothers of the Year" are women who exemplify commitment to serving their community, church and live their faith with devotion to their heritage. Joan was nominated by many of her loving fans. Some of the letters of nomination tell of her many years of serving and what it meant to them. Joan says she is humbled by this honor. There are so many heroic mothers of the Irish Heritage and to be in the company of 24 amazing women is quite meaningful to her. When she found out that she was chosen the Irish Mother of the Year in 1999, the telephone started buzzing. She was chosen and was so flattered and a little nervous, she wanted all of her family and friends to be at the Gathering of the Clan. At the Gathering, they announce the Grand Marshal and Irish Mother of the Year. After the ceremony, the smell of a good ole' Irish meal fills the room and the celebration of their Irish Heritage begins with music, dance and seeing old friends. Then there is the excitement of the activities for the next day. Beginning with Mass at St. Mary's Church and going directly to the Grand Parade. The Quad- Cities Grande Parade was named Sixth Best in North America and 13th Best in the World. What an honor to be a part of all of it, riding in a horse-drawn carriage and have over 100,000 people greet you and celebrate with you. Quoted in the newspaper, Joan said, "I am happy to accept this in place of my own mother. Family meant a lot to her because she was an orphan."
As Joan recounted her life, she was proud to share the wonderful blessings she had received. Her history of volunteering in her church and community; United Way, Catholic Service Board, and as a board member of the Head Start Program. She began the Head Start Children's program that collected hats and mittens for children. The program continued for 30+ years until she retired. They gave out over 1000 mittens and hats in five counties. A good friend asked her how she did it all, raising her children and volunteering. In jest, Joan said "I ignore my children". Her sense of humor is like that. Ask the seven children and they will tell you that they were never ignored and sometimes wondered themselves how Mom did it all. She shared her commitment to the community with the support of a wonderful husband. When raising their children, she instilled faith, church and community involvement. These are values that Joan still lives and practices every day.
If you were to visit Joan in her Cottage at Ridgecrest Village first you would be greeted with her smile and welcomed into her beautiful home. As you look around, you would very quickly see that she lives her faith and is proud of her heritage. Her many souvenirs and gifts are representative of her devotion to her heritage. Irish blessings are displayed throughout her home. Her sofa fabric is even a beautiful floral Irish print. Family pictures include trips to Ireland with her husband and sister. Pictures of the children and grandchildren are carefully positioned among her Irish treasures. Then there is her office, in there she has the fun pictures of herself dressed in her yearly Irish outfit. What fun she has wearing it.
Joan is proud of her heritage and shows it with support and involvement in the St. Patrick's Society and their desire to preserve, express and promote their Irish heritage. When talking with her, you quickly recognize her respect for the Irish immigrants that came to America. The contributions they made to the Quad Cities and to America. When they arrived in America they went through tough times but forged ahead and became leaders of the community. Women's roles were many times leaders of churches, hospital and schools. They were very devoted to their religion and active in the social services needs of the community. Men became policemen and political leaders many others worked on the railroad. Their contributions to our culture today include music, dance, food and faith. The St. Patrick's Society, realized a dream recently when the Irish Memorial Project was completed. The statue depicts an Irish family leaving Ireland; the father is looking forward while the mother appears distressed over leaving her home and family. With the dedication and perseverance of the St. Patrick's Society this memorial stands tall and represents Joan's heritage and the heritage of the thousands of Irish-Americans that live in the Quad Cities area. Joan is proud to be associated with such an organization.
This is one of the many wonderful stories you will hear at Ridgecrest Village. I couldn't close this article without sharing one of Joan's favorite Irish blessings.
"May the road rise up to meet you, may the wind be ever at your back. May the sun shine warm upon your face and the rain fall softly on your fields. And until we meet again, May God hold you in the hollow of his hand."
Happy St. Patrick's Day
Filed Under: Community, Retirement
Tags: Cities Community, Cities St, Devotion, Grand Marshal, Grand Parade, Grande Parade, Ides Of March, Irish Heritage, Irish Luck, Irish Mother, Karen Mccoy, Loving Fans, Marketing Consultant, Mother Of The Year, Music Dance, Old Friends, Quad Cities, Resnick, Retirement Village, St Patrick
Trackback URL: https://www.50pluslife.com/2012/03/01/irish-luck-shines-on-ridgecrest-retirement-village/trackback/