March 1, 2012
Max's Musings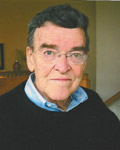 By Max Molleston
When we separated a month ago, I had begun telling the tale of my connection with published poet, Mary Tryon, of Nassau, New York. She was not published when I first encountered her as a contestant in the Mississippi Valley Poetry Contest some years in the past. We exchanged letters, and she launched her serious poetry waltz at age 77 or so. We will review some of the poems she has composed and placed in a book.
Before that, however, we'll move into a special award series, the Newberry Medal, an annual Award from the judgement of America's librarians, a key honor, awarded since 1922. The 2012 Medal winner, Dead End at Norvelt, authored by Jack Gantos and published though the effort of Farrar Straus Giroux. Titles of Honor Books: Inside Out and Back Again and the interesting title, Breaking Stalin's Nose. I don't know about distribution speed, but your bookstore or your library may have a copy to look over.
Back to our featured poet this month, Mary Tryon. I did not ask her about her title, Rhymes for No Reason, Poems For Little Ones. I did not relate to you that each poem, of which there are 12, has an accompanying illustration. First poem:
Bunnies in the Snow

Two little bunnies
Nose to Nose,
Snow falling softly
On their fur and toes.
Mama calling
From their hutch;
Run there quickly,
Don't tarry too much.
I will remind you, that I read to our twin granddaughters on a regular basis. They are about two and a half years old, and like to be read to. As you might imagine, their grandmother gets more of these assignments. Of course, books like these honor pets, the little ones that populate countless childrens' books of poetry or prose. Cute colored drawing opposite, and the poem:
Pretty Kitty

Pretty Kitty likes to play
With everything she meets
She entertains herself for hours
And then at night she sleeps.
This poem has been just long enough and interesting enough for the little ones to enjoy, especially with the drawing on the facing pace. Now another; The drawing is a fluffy (what else) little puppy in small box with an old baby blanket as a cushion.

The Naughty Puppy

The puppy is sleeping
In his little bed
His tummy is full
'Cause he's just been fed.
He's dreaming of playing
Of running and jumping
And chasing the cat
And giving it a thumping.
When he wakes up
At morning's first light
He'll find that old cat and give it a fright.
Again, fun to read and, we believe, fun for the little ones to listen, time after time. I didn't ask Mary how she has priced her book, which is folded and stapled, measuring a little larger dimensions than the standard 8 1/2 by 11 inches. It is very "artsy" in design, and the colored drawings are realistic and delightful. If you are interested, get a note to me in care of 50+ Lifestyles, 804 W. Lombard Street, Davenport, IA 52804 or via email at publisher@50pluslife.com, and we will do our best to get you a copy. Rhymes for No Reason is the title. Some of us have grandchildren and great grand children, who relish being read to, and as we know, bring us a book to read to them some of the time.
That is it for us, you and me, for March. Coming soon, April. It is set, among many happenings, as Poetry Month. It, we hope, is the best sign of springtime available. Come here then, and we will continue these conversations.
Filed Under: Personal Growth
Tags: Bunnies, Childrens Books, Course Books, Farrar Straus Giroux, Honor Books, Hutch, Jack Gantos, Judgement, Little Ones, Medal Winner, Mississippi Valley, Musings, Nassau New York, Newberry Medal, Poetry Contest, Stalin, Titles Of Honor, Twin Granddaughters, Two And A Half Years, Waltz
Trackback URL: https://www.50pluslife.com/2012/03/01/max%e2%80%99s-musings-31/trackback/