March 1, 2012
Music and the Mind – Playing a musical instrument is healthy for your brain
Mastering a Musical Instrument For Your Health
Are you into music? Have you thought about learning to play a musical instrument? There are many advantages associated with learning to play different kinds of musical instruments. Not only are there physical advantages, but they can also give you a sense of relaxation and attract you emotionally. At any age, you can learn to play musical instruments and fulfill your dreams of playing in a band. It's really never too late.
Research has shown that playing musical instruments is very healthy for your brain cells. It has also been noted that children who do well with music, perform better in school relative to other children. They have a better IQ level and have better reading skills. For older adults, musical instruments keep their minds awake, and they are more energetic, with a sharper memory.
Most people compare learning to play music to learning a second language. This is because they both are equally challenging for the learner. One of the traits a person learns through music is to become disciplined in every aspect of life. This is because discipline is required to learn the various kinds of instruments. If you lack discipline, then you are more likely to fail in your goal
Music relaxes the mind and body, and it can really help in lowering your stress. When you play an instrument, you would be far more relaxed than if you were just listening to it. You may feel a little frustrated in the beginning, because you want to learn it in one day, but this is not the case. Learning takes time and great commitment. Once you are successful, you will feel a great sense of achievement, which can prove to be very healthy for your own
confidence.
You can master a musical instrument. So, begin taking classes, attend regularly and soon you'll be having fun and feeding your mind with music.
Source: http://EzineArticles.com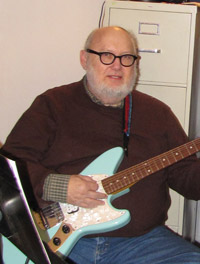 Featured:
Don Estes is a musician in the Quad-Cities and has been performing for more than 50 years. He has performed for three U.S. Presidents, international headliners and has played in numerous music festivals, including the Bix. Most recently, he has performed with the Prairie Area Ramblers.
The Bettendorf retiree enjoys sharing his talents with children and has been teaching music for more than 25 years. He currently offers instruction in brass (trombone), guitar, beginning piano, song writing and improvisation. He is a certified Fender guitar instructor, a member of the International Trombone Association, founder of S.L.I.D.E., and listed in "Who's Who" in West Coast jazz.
Filed Under: Featured, Health & Wellness, Personal Growth
Tags: Brain Cells, Confidence, Different Kinds Of Musical Instruments, Discipline, Don Estes, Dreams, Goal Music, Having Fun, Iq Level, Learning A Second Language, Mind And Body, Music And The Mind, Music Source, Musical Instrument, Musician, Older Adults, Quad Cities, Reading Skills, Relaxation, Stress
Trackback URL: https://www.50pluslife.com/2012/03/01/music-and-the-mind-playing-a-musical-instrument-is-healthy-for-your-brain/trackback/