March 1, 2012
The Privileged Few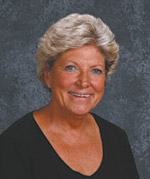 By Mary Schricker Gemberling
Part 1 of a 2-part tale of Mary's travels to South Africa and Zimbabwe
I have always enjoyed traveling! Even as a small child, I loved to gaze out the window of our family station wagon at the changing landscapes as we headed to areas unknown. I have been fortunate in my lifetime to traverse our great United States, seeing 48 of 50 states, with Alaska and North Carolina (not sure how I missed that one) being the only two left. I do intend to work these two states into my bucket list of travels, but my real focus now is to travel to those places of my dreams. In search of a warm place to spend our
honeymoon, Gary and I decided on a trip to South Africa and Zimbabwe. The trip was a life altering experience, from touring the beautiful port city of Cape Town, to four days on safari in the Bush, followed by a visit to South Africa's largest city, Johannesburg, and finally witnessing first-hand the spectacular view of Victoria Falls, one of the natural Seven Wonders of the World.
South Africa, although rich in divergent cultures, history, architecture, cuisine, and language, is also a country of contradictions from the diamond and gold mines of Johannesburg to Soweto's masses of humanity living in lean-tos, many without permanent walls or running water. Encompassing 47,120 square miles, just 1 percent of the world's land area, South Africa is about as big as California and Texas combined. Of its more than 50 million people, 50 percent live below the poverty level. There are 11 official languages and over 20 different ethnic groups. Education is a luxury with only 86.5 percent age 15 and over able to read or write.
Our trip began with five days in Cape Town, ranked with Rio de Janero, San Francisco, and Sydney as one of the most beautiful port cities in the world. Established in 1652 as a supply station for ships of the Dutch East India Company, Cape Town is the oldest and second largest city in South Africa. At its southern-most point lays the Cape of Good Hope, where the Atlantic and Indian Oceans meet. Some 8,550 individual plant species are found in this area that represents only .04 percent of the earth's surface. Nestled in a cove between Simon's Town and the Cape Point is a thriving colony of the endangered African Penguins. Table Mountain, Cape Town's most famous landmark, rises some 3,300 feet above sea level, giving the spectator magnificent views of the valley below, as well as the feeling of being on "top of the world!" Another stop on our tour was Robbin Island, the maximum security prison where Nelson Mandela spent 18 of his 23 years of incarceration. For over 400 years, colonial and apartheid rulers banished those they regarded as political troublemakers to this island. Following the end of Apartheid, in recognition of its historic role in overcoming injustice and the universal importance of heritage, Robbin Island was made into a Museum and World Heritage Site.
The next four days of our tour were spent on Safari. Game drives were in the early morning and late afternoon and evening. Our land rover held six people plus our driver-guide, Solomon and scout, Max. The goal was to make sure we saw the big five: Lions, elephants, Cape buffalos, rhinoceros, and leopards. Not only did we get to see these magnificent animals, we also spotted giraffes, antelopes, wild dogs, zebras, impalas, and hyenas, just to name a few. At one point, we were so close to a herd of elephants one of them tried to put her trunk in my lap. Our initial fear of the animals was short lived, as we saw what an insignificant impact our presence had on them. What an experience it was to sit in the open Bush Land, watching 100s of animals calmly grazing around us!
The last 24 hours of Safari, brought record rainfalls, causing the bridge that connected Tinga Lodge with the mainland to wash out! A 5 a.m. phone call warned us to get dressed, and packed and ready for evacuation. After all members of our tour group were safely evacuated, some by helicopter, we skirted the closed airport and were transported to Johannesburg via a bus. Much to our surprise, we made the headlines in the Johannesburg paper the following morning, "Floods hit Krueger; Overseas visitors evacuated from park!!!"

To be continued in the April issue of 50+ Lifestyles
Mary Schricker Gemberling, a former educator and Seniors Real Estate Specialist, is the author of two books, "The West End Kid" & "A Labor of Love."
Filed Under: Personal Growth
Tags: Architecture Cuisine, City Johannesburg, City Of Cape Town, Country Of Contradictions, Different Ethnic Groups, Divergent Cultures, Dutch East India, Dutch East India Company, East India Company, Family Station Wagon, Gemberling, Gold Mines Of Johannesburg, History Architecture, Official Languages, Places Of My Dreams, Port Cities, Poverty Level, Rio De Janero, Seven Wonders Of The World, Victoria Falls
Trackback URL: https://www.50pluslife.com/2012/03/01/the-privileged-few/trackback/