April 4, 2012
Grandparenting is Great!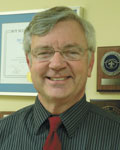 By Bob Morrison
Development Director of Ridgecrest Village
If you have grandchildren, or even great-grandchildren, you can relate to my feelings about grandparenting. We have three grandsons who are adorable. I always wondered why seniors carry around pictures of their grandkids; now I know. (Oh, did you want to see them? I'll show you my pictures if you'll show me yours.)
Now that I am a grandparent, I find that many of our friends and residents love to share their grandparent stories. Here are just a few: One grandmother paused while her 9-year- old grandson tried to scoop up sand with his bare feet. They had been walking along a beach on the east coast feeling the mist on their faces and finding sea shells. She was caught up in the moment, feeling free to enjoy her grandson in the beauty of nature.
Another told me that their favorite memories are those of riding horses together in the mountains. Another time a country condo was arranged for a fun adventure. Friends Dick and Sonnie arranged for a cabin and mild whitewater river trip with their grandchildren.
What made me think of the topic for this article is an experience I had yesterday. I was told Joe and Mary Zerbe, residents of Ridgecrest Village, were in the hall yesterday grinning from ear to ear. When I stopped to visit with them, they began telling me about all of the fun they have had this week. Their grandchildren have been staying with them during school spring break. I have to admit, they are very creative. Joe and his 7-year-old grandson made several paper airplanes, while Mary and her 9-year-old granddaughter enjoyed learning several baking techniques in their kitchen. They were having so much fun, they were going to hate to see them leave to go back to school.
Last week we took our 4-year-old grandson to Disney World for five days and nights. We first went to the Magic Kingdom, then Animal Kingdom, then Epcot Center, Disney Hollywood Studios, then for the last day, Hayden picked a second trip to the Magic Kingdom. What delightful memories were created!
He was excited about rides in "It's a Small, Small World," Peter Pan, Dumbo, Tea Cups, Carousel, people movers and the 3D movies. He enjoyed getting autographs and pictures with Mickey Mouse, Minnie, Donald Duck, Pluto, Goofy, Woody, Buzz Lightyear, and Lightning McQueen. Hayden also was thrilled with the parades, including the Electrical Parade and seeing a lighted Tinkerbell zipping down a 400' line from the top of Cinderella's Castle. I will never forget the sparkle in his eyes when we watched the fireworks display that was synchronized to "When you wish upon a star."
My wife plans a Grandma Camp for a week each summer. The grandkids come for a scheduled fun time at Niabi Zoo, trips to the playground, children's museum, swimming in the pool, games, reading books and eating together. They look forward to it every year. I don't know who has more fun, them or my wife.
We would like to hear your story of your memories of fun times with your grandchildren. Every child enjoys special attention from their grandparents. Sharing your experiences will encourage others to follow your lead or to develop new ideas. Please call or email your grandparenting stories to bmorrison@ridgecrestvillage.org or call me at Ridgecrest Village at (563) 388-3431. With your permission, they will be displayed at our senior events and shared in our newsletter for others to enjoy.
Filed Under: Family
Tags: Animal Kingdom, Bob Morrison, Development Director, Disney World, Granddaughter, Grandkids, Grandmother, Grandsons, Great Grandchildren, Hollywood Studios, Magic Kingdom, Paper Airplanes, Riding Horses, River Trip, School Spring, Sea Shells, Second Trip, Sonnie, Whitewater River, Zerbe
Trackback URL: https://www.50pluslife.com/2012/04/04/grandparenting-is-great/trackback/