April 4, 2012
Max's Musings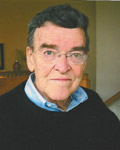 By Max Molleston
I surely can't know, and recall all the objects and happenings taking place this month. We (most of us) think of April as the beginning of the Spring season. Lots of thinking about new and recurring vegetation, some which will bloom and bring forth fruit, more that will provide some sustenance, depending on what we plant.
For a while now, another of the events declared for April is "Poetry Month." I am involved with the Midwest Writing Center, of Davenport, Iowa. The organization annually selects Chapbook winners. I may have worked this out with you readers. Chapbook is what is left from an English practice that produced "cheap" books. Think of it as corrupted pronouncing. Rereading one recently titled The Sinks, the prize winning work of poet Ryan Walsh, I came on the perfect poem for Spring. Perfect for me. It is about a delicious vegetable, and the life it leads in American eating. We will be working with Asparagus.
Asparagus
From snow pools and dark soil it rises.
Spring's scout. With Rubber boots
we walk the morning field
scanning the fine light air of May.
Asparagus teaches us to see
its peculiar green (neither thistle or pea) look
for the shy little curve of its stem
like a giraffe grazing on neighbors: foxtail,
quackgrass. We snap and stack them
one by one in the tub, careful
not to crumble their velvety heads.
Soon June brings strong sun, chard and lettuce,
sugar peas, the joyful stain of beets and strawberries.
Then cornstalks whisper.
Springs tender shoots crushed by the bushel.
Potato and summer squash.
Long days grown forgetful
of winter. No more cold mornings. No more
sharp whiff rising from our urine
like a reminder of death.
Ryan Walsh brought us more than we bargained for, and part of challenge and goals of poetry. It often brings the poet more than he or she began to create in a few stanzas of verse or some wide open poetry composing. The poem opens on asparagus, and cleverly works our brains through the
processes and conditions of growth and harvest. I wonder: is it the same with asparagus we consume in the winter months, produced in nations south of the U.S. My vegetable bin in the refrigerator will host asparagus from Mexico, Chile, and other production sites elsewhere. Two names come to me and to growers of asparagus in Rock Island County, Illinois, particularly. Carl Cantaluppi, an extention director for that county years ago, and John Sedlock, who once worked at the International Harvester plant in East Moline, Illinois. Carl and John opened the area to asparagus raising, and truck farming the harvest for Farmers' Markets or for commercial supply and delivery to area restaurants and grocery stores of all types. I still know both men and salute their efforts probably two decades ago to bring that vegetable and the industry to the Quad-City area. John Sedlock, with his wife Patty, and older son and daughter, operate the farm, where John says he has curtailed the area he had planted and harvested for years. I'll involve my late mother in law. I drove where she designated along country roads. She gathered young asparagus and created a wonderful supplement for her usual summer meals with her families at the tables (card table for kids, which they preferred.)
Back to a short poem for Poetry Month. It is from the Translation issue of Poetry magazine, publishing in its onehundredth year. One of eight poems featured, translated from Russian, as composed by Marina Tsvetaeva.
"A kiss on the forehead"

A kiss on the forehead—erases misery.
I kiss your forehead.
A kiss on the eyes—lifts sleepnessness.
I kiss your eyes.
A kiss on the lips—is a drink of water.
I kiss your lips.
A kiss on the forehead—erases memory.
This poem was composed in 1917. Marina was young then, lived all over Europe and claimed German as her "native" tongue. In our glance at eight poems, some very short, some a little longer, she appears to have been an active writer from before WWI to the early years of WW II.
Enough of your reading energy has been expended here, which I appreciate. Join the column in May. Hooray!!
Filed Under: Personal Growth
Tags: Asparagus, Beets, Bushel, Chard, Cheap Books, Cold Mornings, Dark Soil, Davenport Iowa, Delicious Vegetable, Giraffe, Open Poetry, Rereading, Rubber Boots, Ryan Walsh, Spring Season, Stanzas, Sugar Peas, Sustenance, Whiff, Writing Center
Trackback URL: https://www.50pluslife.com/2012/04/04/max%e2%80%99s-musings-32/trackback/