April 4, 2012
On the Go With Joe Hutter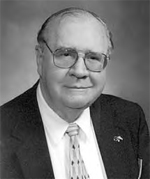 Seniors And Law
Enforcement Together (SALT)
By Joe Hutter
Whenever people are having financial problems, especially with the home foreclosures that we see today, there is always a scam somewhere. After a tornado, flood, or hurricane, people come to help. The help is not always true help. Many seniors won't have the foreclosure problems with their homes, but may have children who will have problems.
The Iowa Attorney's Office has received complaints from families that paid $900 to $1,500 or more to companies to help them. The con-artist did nothing for them. If this has happened to you or someone you know, call the Iowa Mortgage Help Hotline at 1-877-622-4866.
Be very careful who you ask for help. Just recently, there was an ad about helping people with tax problems. The TV ads ran during the day and late at night on cable shows. The business that advertised to help people has filed bankruptcy.
There are many scams; and if you get calls asking for personal information, DO NOT give them any information over the phone.
If your group is looking for more information on scams, or what is available for seniors, call your local police or sheriff's department. They have officers to give you information on what is happening in their area on con games. Don't give your money away to some thief.
If you live in Iowa and want to volunteer, call Kim Hatfield at (563) 888-3201. She is the coordinator for the City of Davenport Volunteer Program. The Riverboat Development authority and the City of Davenport provided funds for this program. There is no age requirement or residence required. The program helps non-for-profit organizations.
By the way, mark August 2 on your calendar, as this is senior day at the Mississippi Valley Fair.
For more information on the S.A.L.T. program, call Pam, at the Scott County Sheriff's Office at (563) 326-8217.
Take care.
Tags: City Of Davenport, Con Artist, Con Games, County Sheriff, Foreclosure Homes, Foreclosure Problems, Hatfield, Home Foreclosures, Hutter, Iowa Attorney, Iowa Mortgage, Mississippi Valley Fair, Pam, Profit Organizations, Riverboat, Scams, Seniors, Thief, Tv Ads, Volunteer Program
Trackback URL: https://www.50pluslife.com/2012/04/04/on-the-go-with-joe-hutter-30/trackback/