April 4, 2012
Scratch Procrastination Off Your List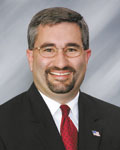 By Curt Ford
Nash Nash Bean & Ford
Procrastination is …
"… the thief of time."
"…the art of keeping up with yesterday."
"… the ability to put off till tomorrow what you should have done yesterday."
The fact that we have a host of quotes on procrastination is good evidence that, as a society, Americans excel at thinking similar to Scarlett O'Hara: "Tomorrow is another day."
In fact, Americans are so good at putting off till tomorrow that we have a special month dedicated to delay: National Procrastination Month.
This April, instead of celebrating the month by putting even more things on hold, we recommend you conquer one of the most delayed items in America: your estate plan. While a majority of Americans agree that it is important to have an estate plan, only three out of 10 people have completed one.
It is easy to understand why people delay their estate planning. No one likes to think about their own mortality or worry about what could happen in the future. But, the biggest thing to remember is estate planning is not really about your death, it's really about your life … and your legacy.
With a completed estate plan, you gain peace of mind and eliminate the worry over who will make decisions for you if you become incapacitated, how your estate will be handled after you're gone or if your family will fall into disarray, squabbling over the heirlooms in your estate.
Preparing your estate for the inevitable and actually dying are not the same thing. Absolutely delay your funeral as long as possible, but don't procrastinate the planning of your estate.
Not sure how to begin? The first step is easy. With one phone call, you can set an appointment with an attorney experienced in estate planning. You don't have to make any decisions, you don't have to do any work, you just have to make one phone call. Once you meet, the attorney will help you ask the right questions and guide you through the decision making process and help you stay on task to complete the plan.
This April, take the first steps to completing your estate plan. Do today what you don't have to put off until tomorrow.
Nash Nash Bean & Ford are members of the American Academy of Estate Planning Attorneys and the National Academy of Elder Law Attorneys. To receive a copy of our most recent newsletter "Your Estate Matters" or for a free consultation on Estate or Long Term Care Planning, call (309) 944-2188, (309) 762-9368 or 800-644-5345. You also may contact our firm by email at info@nashbeanford.com or visit our website at www.nashbeanford.com.
The firm devotes its practice primarily in the areas of estate, business and tax planning and related areas of the law, as well as elder law and trust administration and probate. We offer guidance and advice to our clients in every area of estate planning.
This column is designed for general information purposes only, and is not intended, nor should be construed or relied upon, as legal advice. Please consult your attorney if specific legal information is desired.
Filed Under: Finance, Personal Growth
Tags: Amp, Appointment, Decision Making Process, Decisions, Disarray, Ford, Gain Peace, Heirlooms, Legacy, Mortality, Nash, O Hara, Peace Of Mind, Phone Call, Procrastination Is The Thief Of Time, Quotes, Scratch, Squabbling, Thief Of Time, Tomorrow Is Another Day
Trackback URL: https://www.50pluslife.com/2012/04/04/scratch-procrastination-off-your-list/trackback/