May 17, 2012
Child of my Child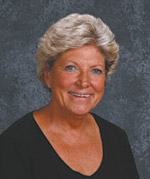 By Mary Schricker Gemberling
"All parents know that the love we experience prior to parenthood holds a small flame to the force and the power of the love that sweeps into your soul at the birth of your own child. Believe it or not, the birth of your grandchild carries a stronger, more potent love. This is the child of my child!"
– Barbara Evers
They are 70 million strong. They are the largest, fastest –growing, most powerful segment of the United States population. They are younger than ever before and are not whiling away their hours in a rocking chair. The average age of first time grandparents is 52. Fifty-four percent or 38 million are younger than 65. They are better educated and control seventy-five percent of the wealth in this country. They have the highest net worth of any other age group and spend $2 trillion a year on consumer goods and services.
On March 7 of this year, I became a proud member of this group when Lucille Elizabeth Schricker was born. It's hard to describe the feeling I had when I held Lucy for the first time. George Strait might have said it best in his song, "I saw God today!" This beautiful little girl, child of my child, is, of course, flawless. She is pink and round, with perfect little fingers and toes, just the right amount of strawberry blond hair, is already trying to hold her head up (at the age of one month) and can recognize me and smiles when I talk to her?? I am told this delusionary trait is a symptom of being a brand new grandmother and will wane a bit with time. I do know for sure that as I hold this precious bundle, all is right with the world and I am full of hope for both her and her parents. How exciting to be at the brink of a future full of first words, first steps and first days.
I've thought a lot in the weeks since Lucy's birth, of the role that I will play in her life. She is one of the Lucky ones, for she has two bright, loving dedicated parents whose lives are steeped in faith, family and tradition. So I have decided that beyond loving her unconditionally, I can best influence her by being the kind of positive role model in her life that will inspire her to be the best person and best young woman she can possibly be. I hope, along the way, I get to share with her my passions for reading, writing, gardening and traveling. Above all I hope that I can give her kindness, patience, humor, comfort, lessons of life, and most importantly, cookies!!!
Mary Schricker Gemberling, a Certified Senior Advisor, is a former educator and Seniors Real Estate Specialist and the author of two books, The West End Kid and A Labor of Love
Filed Under: Family, Personal Growth
Tags: Brink, Consumer Goods, Faith Family, Fingers And Toes, First Steps, George Strait, Little Fingers, Little Girl Child, Lucille, Net Worth, One Of The Lucky Ones, Parenthood, Precious Bundle, Proud Member, Rocking Chair, Strawberry Blond Hair, Time George, Time Grandparents, Trillion, United States Population
Trackback URL: https://www.50pluslife.com/2012/05/17/child-of-my-child/trackback/