May 17, 2012
On the Go With Joe Hutter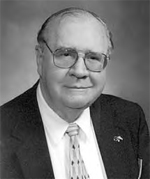 Seniors And Law
Enforcement Together (SALT)
By Joe Hutter
At least once per week, while watching or reading, we hear about how a scam was tried, or was successful on a senior citizen. With computers now being used by seniors, more and more of the scams now happen through the internet. Recently, there was some information about insurance scams on the internet. After reading the information, I visited Alex Hastings of Bettendorf.
Alex and his wife Tiffani moved here from Mason City, Iowa. His comment to me was, "Think twice before shopping for insurance on the internet." Hastings Insurance Solutions is located in Bettendorf. His office is in a building, and you can meet him in person. If you buy insurance, make sure you buy it from a licensed insurance agent that you can meet and who has a permanent office. If you have any insurance problems, call the insurance commissioner of your state or the Attorney General's office.
On April 5, there was a Senior Expo in Bettendorf at the Waterfront Convention Center. You didn't have to be a senior to attend, but the information that was available at the expo was valuable for seniors. If you need help or information, talk to someone you can meet in person and that lives in your community.
On May 10, Salute to Seniors will be at the Mississippi Fairgrounds. Gloria Fisher and her volunteers always have valuable information to help seniors. It is free, and parking is free. August 2 is Senior Day at the Mississippi Valley Fair. Sheriff Dennis Conard will be visiting the fair on Senior Day, and 50+ will be there, too!
Our monthly Seniors And Law enforcement Together (SALT) is May 23 at CASI, and you are invited. For more information call Pam at the Scott County Sheriff's Office at (563) 326-8217.
Take care.
Tags: Alex Hastings, Bettendorf, Conard, County Sheriff, Expo, Gloria, Hutter, Insurance Agent, Insurance Commissioner, Insurance Problems, Insurance Scams, Insurance Solutions, Licensed Insurance, Mason City Iowa, Mississippi Valley Fair, Pam, Permanent Office, Salute, Senior Citizen, Seniors
Trackback URL: https://www.50pluslife.com/2012/05/17/on-the-go-with-joe-hutter-31/trackback/