May 17, 2012
The happiest people don't have the best of everything; They just make the best of everything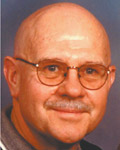 By Richard J. Schillig, CLU, ChFC, LUTCF
Independent Insurance and Financial Advisor
Have you observed this being real? The happiest people clearly don't have it all, but they certainly make the best of what they have. The amount of retirement money you have is not important. What is
important is making certain we make the best use of what clients have to protect assets from risks we face in life that are greatly enhanced when retired.
Healthcare costs are clearly a risk to our valuable retirement money. Long-term care costs are often times not considered when looking at healthcare costs. Let's review some facts involving those risks enhanced at retirement and during retirement: there is a 25 percent chance your household will have a reported home fire during your lifetime (National Fire Protection Association July, 2009), 26 percent of individuals will report an auto crash injury sometime during their lifetime (Reported by the National Highway Traffic Safety Administration December, 2008), 34 percent of individuals reported an unexpected medical expense in the last year (Pew Research Center January, 2007) and 70 percent of individuals over age 65 will require some form of long-term care services (National Clearinghouse for long-term care information October, 2008.)
We always insure our homes and cars. We maintain health insurance while employed and become dependent on Medicare in retirement. We raise our children with understanding the importance of insuring homes, cars, and health. When it comes to insuring one of the biggest risks we have (70 percent of us over age of 65 will use long-term care services), many choose not to acquire long-term care insurance.
I believe the biggest deterrent to buying long-term care insurance is the premium. Long-term care insurance is expensive. Consequently many choose to ignore the risk with the false sense of "it won't happen to me." Sound familiar? Is this your situation or choice for long-term care insurance? With the 70 percent statistic, why are we not looking this risk directly in the eye and taking steps to protect our spouses and families from costs associated with long-term care services?
Happy people just make the best of everything. There are options to very expensive long-term care insurance. Happy people make the very best use of the assets they have by choosing a basic lower premium long-term care policy and then may continue supplementing that base plan by choosing to reposition current assets to those special annuity or special life insurance plans that offer long-term care benefits. Special 21st century annuities and/or special 21st century life insurance policies have features for long-term care costs. These plans could become a very viable option in place of long-term care insurance OR in addition to long-term care insurance.
I encourage you, regardless of the amount of savings, retirement plans or other assets you have, to look into these options as an alternative to very expensive comprehensive long-term care insurance or an addition to basic long-term care insurance.
Call us for details. These plans require some verification of current good health. Annuities are designed for longer term investments but offer some term relief for long-term care purposes. Long-term care life insurance may also require some verification of current good health but may become an option for those qualifying. Make the best of what you have.
Looking forward to hearing from you.
Filed Under: Finance
Tags: Auto Crash, Crash Injury, Fire Protection Association, Healthcare Costs, Highway Traffic Safety, Home Fire, Independent Insurance, Long Term Care Insurance, Medical Expense, National Clearinghouse, National Fire Protection, National Fire Protection Association, National Highway Traffic, National Highway Traffic Safety, National Highway Traffic Safety Administration, Retirement Money, Schillig, Term Care Insurance, Term Care Services, Traffic Safety Administration
Trackback URL: https://www.50pluslife.com/2012/05/17/the-happiest-people-don%e2%80%99t-have-the-best-of-everything-they-just-make-the-best-of-everything/trackback/