May 30, 2012
PUBLISHER'S CORNER – June in the Quad-Cities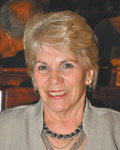 By Eloise Graham
June…the beginning of the lazy, hazy days of summer. Things are supposed to slow down in the summer, but that doesn't seem to happen for me. Gardens to tend, lawns to manicure and the revolving door of grandkids coming and going during the summer vacation. Then there are ballgames: it runs the spectrum from T-ball for the little ones, through summer leagues of the grandchildren, the River Bandits, to the majors – the Cubs and the White Sox. Don't forget the outdoor concerts, summer theater and ballet under the stars!
Another outing is the Saturday Social event – the farmers' market. Of course, here in the Quad-Cities, we also have markets on Mondays, Tuesdays, Wednesdays and Thursdays. Maybe you have weddings to attend or anniversary parties to go to. The Quad-Cities has more than its fair share of summer festivals down by the "Mighty Mississipp" or at the fairgrounds or parks. June's days may be hazy, but they certainly aren't lazy!
We're proud that 50+ Lifestyles celebrates the continued success of 25 years this month. We have evolved over this past quarter of a century: we've gone from a magazine style in newsprint, to a newspaper format in newsprint to our current magazine form with glossy cover and sturdy paper insides. Five years ago, we went on the web with the publication in full content – and five years later we're still the only local senior publication on the web. Three years ago, we went to an interactive web distribution. And we're the oldest free mature publication in the area.
I want to thank our many advertisers that have been with us through the years; our many contributing writers
that have inspired many a reader with their words, wisdom and humor; but most importantly, I want to thank you, the readers who enjoy this publication. I also want to thank the founder of 50+, Russ Myers, and wish him a happy birthday, too. We look forward to bringing you 25 more years of 50+ Lifestyles!
At long last, we, the seniors are rich! It took a while, but we made it! We have silver in the hair, gold in the teeth,
crystal in the kidneys, sugar and iron in the blood, lead in the butt, and an inexhaustible supply of natural gas. Guess I never thought we would accumulate such wealth! Remember, life is short. Live it to the fullest. It does have an expiration date. Now go out and enjoy June!
Tags: Anniversary Parties, Ballet Under The Stars, Current Magazine, Eloise, Farmers Market, Grandkids, Hazy Days, Interactive Web, Little Ones, Magazine Style, Mississipp, Newsprint, Outdoor Concerts, Quad Cities, River Bandits, Russ Myers, Summer Festivals, Summer Leagues, Web Distribution, Words Wisdom
Trackback URL: https://www.50pluslife.com/2012/05/30/publisher%e2%80%99s-corner-june-in-the-quad-cities/trackback/