May 30, 2012
Where Was This When I Needed It?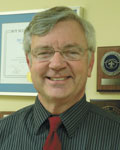 By Bob Morrison
Development Director of Ridgecrest Village
I want to share a story I read from Glynn Devins that addresses what I often hear from visitors at Ridgecrest Village; "This is a great place with lots of fun activities and great food, but I'm just not ready yet!"
She said, "I'm often on site at communities helping to manage photo shoots. A big part of my role is working with the residents we'll be photographing."
As you might imagine, it offers lots of opportunity to talk about their experiences and how they came to live at that particular community. It's not unusual for me to hear that they believe they delayed their decisions to move into the community longer than they should have, and now wished they had made the decision to move sooner! In other words, when they thought they "weren't ready," they didn't know what they were missing.
I'm sure many of you have heard these same stories. However, on my most recent photo shoot, one resident went a little further and said, "Fear of the unknown and thinking 'I'm not ready yet' prevented me from enjoying the next phase of my life. When I was thinking I'm not ready yet, I wish I would have seen an ad that read:
"I'm not ready yet …
To have someone clean my house
To meet new people
To have fun
To have someone else cook my meals
To socialize with others who understand me
To go to the theatre and other entertainment venues
To have a fitness coach
To feel secure in my future needs
To have an enriching life!"
He went on to share that when he made the decision to move, he turned to his wife and said, "I'm ready! How
about you?" … When she said, "I'm not ready yet," he gave her this list.
Filed Under: Community
Tags: Addresses, Bob Morrison, Decisions, Development Director, Devins, Enriching Life, Entertainment Venues, Experiences, Fear, Fitness Coach, Fun Activities, Imagine, Lots Of Fun, Photo
Trackback URL: https://www.50pluslife.com/2012/05/30/where-was-this-when-i-needed-it/trackback/