July 5, 2012
Caregiving from Afar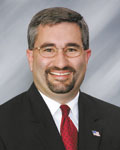 By Curt Ford
Nash Nash Bean & Ford
Overseeing the care of an aging relative is challenging enough, but throw in the extra complication of trying to provide for a senior relative long-distance and the challenges multiply.
According to the National Alliance for Caregiving, approximately 7 million Americans care for a senior-relative long distance. They face guilt and anxiety from not being able to be there at a moment's notice, to dealing with financial stresses. Long distance caregivers spend nearly twice as much time as those who live near their parents. Not only do they have extra transportation costs, but they also have the expense of additional caregivers and service providers.
However, even from a distance there are ways to ensure your parent or elderly relative is receiving the best of care:
1. Assess the needs. Observe your parents in their home when you visit. Is there unopened mail or out-of-date food? Are there tripping hazards such as rugs or cords?
2. Keep in touch. Modern technology makes it easier to keep tabs on an aging relative. With software dedicated to senior users, long distance caregivers can "video visit" on a regular basis, keeping an eye out for changes in from normal patterns.
3. Know local neighbors and friends. With a larger network of support, you can be assured that plenty of people are keeping an eye on your relative and can let you know when something begins to seem amiss.
4. Prepare medical documents and directives. To be able to discuss your parent or relative's medical condition, make sure that they have signed Health Insurance Portability and Accountability Act (HIPAA) documents. Physicians and medical facilities will require this form before they can discuss any medical conditions with you.
5. Discuss plans. If you begin to notice areas where your parents appear to be slipping, such as lack of groceries, unwashed dishes, etc., discuss it with your parents and include them in any plans you may make for their care.
6. Research ahead of time. Many communities offer services for seniors including transportation, health aides and other care-giving options. Knowing your alternatives before you are faced with an emergency situation will make any transition easier.
Nash Nash Bean & Ford are members of the American Academy of Estate Planning Attorneys and the National Academy of Elder Law Attorneys. To receive a copy of our most recent newsletter, "Your Estate Matters," or for a free consultation on Estate or Long Term Care Planning, call (309) 944-2188, (309) 762-9368 or 1-800-644-5345. You may also contact our firm by email at info@nashbeanford.com or visit our web site at http://www.nashbeanford.com.
The firm devotes its practice primarily in the areas of estate, business and tax planning and related areas of the law, as well as elder law and trust administration and probate. We offer guidance and advice to our clients in every area of estate planning.
This column is designed for general information purposes only, and is not intended, nor should be construed or relied upon, as legal advice. Please consult your attorney if specific legal information is desired.
Filed Under: Community, Family
Tags: Financial Stresses, Groceries, Guilt, Health Insurance, Health Insurance Portability, Health Insurance Portability And Accountability, Health Insurance Portability And Accountability Act, Health Insurance Portability And Accountability Act Hipaa, Long Distance, Medical Condition, Medical Conditions, Medical Documents, Medical Facilities, Modern Technology, Nash, National Alliance For Caregiving, Resear, Rugs, Transportation Costs, Unopened Mail
Trackback URL: https://www.50pluslife.com/2012/07/05/caregiving-from-afar/trackback/