July 5, 2012
In and Out of the Quad-Cities – Miles and Miles of Iowa
Contributed by Gail McPike and Toni Hall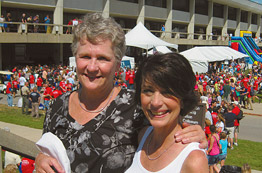 In and Out of the Quad-Cities; it's our mission, and maybe our quest. Sometimes we're in, sometimes we're out. This past month has found mostly out. Just like Zeus had a thing for Cronus, one might suppose the great god of calendars had a thing for a pair of QCA-based mortals named Gail and Toni. Instead of the classically inspired lightning bolts old Zeus was fond of tossing at those who crossed him, the calendar god cursed us with back-to-back trips to Des Moines.
Don't get us wrong, we love Des Moines. The Iowa State Fair is legend, and we wouldn't dream of missing an opportunity for a corndog and a lemon shakeup. Our great friend Elaine lives in Des Moines – we love seeing her. We subscribe to the plays of the Des Moines Civic Center. We enjoy the variety of restaurants, trips to Trader Joe's, Jordan Creek… the whole nine yards.
But lately, we find ourselves barreling down I-80 just a bit too often. After five trips in two weeks, we're feeling like we could name every bump in the pavement from the Davenport exit ramp to the Des Moines turnoff. And, it is in this state of mind, we decided to compile a list of everything that's worth seeing between the QCA and the Capitol. Let's just call this the Gail and Toni travel guide to the first 160 miles of Iowa I-80.
As savvy travelers who constantly scoop for new and exciting information, allow us to share a bit with you. The US Interstate Highway System is marked with mile marker posts. You will see small green signs along the side of the road. These are in place to assist with navigation. They run from west to east and south to north. So one mile after you cross the Missouri River near Omaha, you see mile marker "1." Some 295 miles east, you see the Brady Street Exit for Davenport.
To give this article a true interstate vibe, we decided to mark everything with the mile marker appropriate along I-80 headed west.
Exit 284 – The World's Largest Truck Stop
We're a sucker for just about anything labeled "World's Largest." Whether it be a ball of twine, collection of Barbie Dolls or anything else, we're all eyes. This place is hardly out of town. The Iowa 80 Truck Stop is the World's Largest – period. This place is a completely accessible view into the world of the big semis plying their way cross country.
The parking lot regularly holds 100s of big trucks carrying everything from wind turbine blades (these things are a couple hundred feet long) to refrigerated trucks carrying loads of onions from the Texas Rio Grande to points north. A walk around the inside gives you an idea of the needs of these drivers. They have everything from chrome truck parts to a chiropractic clinic. There's a barber shop and a Laundromat.
We've learned that truckers like ice cream and pie. The restaurant at this truck stop has several varieties, and according to our expert Current Trophy Husband Frank, serves up a great heaping dish of biscuits and gravy. Now, join us as we continue west.
Exit 267 – 1960's A&W Hamburger Family
Located just north of the Interstate, between Exit 267 and the Cedar River, lays Hunt's Cedar River Campground. Hunt's is an old time family campground with a pool and a miniature golf course. We have driven by a zillion times. And each time, we have to admire the vintage A&W Hamburger Family perched in the mini-golf area. It's a piece of Americana along America's busiest highway.
Exit 254 Herbert Hoover's Presidential Library and More
We can barely remember our high school history class mentioning Herbert Hoover. We think most classes do a cursory once over of American Presidents, then quickly shift gears. But, Archie Bunker put Hoover back on the map with their weekly introduction. "We could use a man like Herbert Hoover again…"
Herbert Hoover is Iowa's first and only President. Hoover grew up in the small Quaker influenced community of West Branch Iowa. Just a couple of miles off the super slab highway is the Hoover Presidential Library. This includes Hoover's remembrances, keep sakes and plenty of historical information. A hundred yards away stands the single room home from which this President came. The Library hosts literally hundreds of events each year and this is a fabulous stop off for the history minded person. But not everyone is historically minded, and West Branch has something for you, too.
West Branch also plays home to what we call the Bowling Ball House. We believe in reuse, recycle and save the planet. The owner of this home decided landscaping was their art and bowling balls their media. Down across the tracks in the east end of town, stands a home with well over 100 bowling balls used in various landscape functions. Flower gardens are lined with bowling balls. The driveway, the walks, and other features – you guessed it bowling balls.
Exit 240 – The Coral Ridge Mall
Iowa's biggest shopping mall has an indoor ice rink. What fun it would be to skate on a 100 degree summer day.
Exit 225 – The Amana Colonies
A German Culture spot just five miles north of the interstate holds a half dozen restaurants, wineries and cools shops by the bucket load. We recommend the cranberry wine, but that's another story.
Exit 220 – The Williamsburg Factory Outlet Mall
We consider this to be our half-way point to Des Moines. What can we say? Bargains are fun.
Exit 201 – The Best Gas Station Coffee in the World
The Kwik Star truck stop just south of the interstate has a remarkably urbane selection of fine brews. Starbucks, well not quite, but this place serves up the best java within 100 yards of the interstate.
Exit 182 – Grinnell Iowa Home of the Iowa Transportation Museum
We have yet to see the museum, but with a little luck, this one will turn happen soon. By the way, the Kum and Go gas station near
I-80 has great hot dogs.
Exit 173 – Kellogg Iowa Great Hand Scooped Ice Cream
The Kellogg Iowa RV Campground gas station has some of the finest hand scooped ice cream at home or abroad. We recommend a double dip of their butter pecan.
Exit 168 – Newton – The Iowa Raceway and the best blue cheese on the planet
This place features Indianapolis 500 style cars, NASCAR and a whole bunch more. But the real attraction here is the Maytag Dairies located five miles north of the highway. Maytag Blue Cheese is internationally famous. They have a very small area where you can buy a chunk of this stuff – remember to share.
Exit 155 – Colfax Iowa Trivia Alert
Who was vice president to Galena, Illinois' Native Ulysses S. Grant? The answer: Schuyler Colfax. Colfax was named in honor of Mr. Colfax. It seems like we read this bit of history while grabbing a snack here one day.
Exit 137 – The Des Moines Turn off …and we're there….
In the meantime, Happy Fourth of July…
Filed Under: Community, Humor, Personal Growth
Tags: Brady Street, Corndog, Des Moines Civic Center, Exit Ramp, Friend Elaine, Great God, Green Signs, Interstate Highway System, Iowa State Fair, Jordan Creek, Lemon Shakeup, Lightning Bolts, Marker Posts, Mcpike, Mile Marker, Quad Cities, Savvy Travelers, Street Exit, West Exit, Whole Nine Yards
Trackback URL: https://www.50pluslife.com/2012/07/05/in-and-out-of-the-quad-cities-miles-and-miles-of-iowa/trackback/