July 5, 2012
Invisible Hearing Aids (IICs)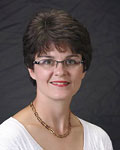 By Dr. Molly Parker
Audiologist
Parker Audiology, PC
There is a new class of invisible in canal hearing aids (IIC). These devices are removable, safe and fit deeply in the ear canals so that others cannot see them. The pictures show the difference in my ear between the traditional small completely in the canal (CICs) and the IICs.
Invisible In Canals (IICs) are removable devices that are placed close to the eardrum. They require an audiologist who is experienced and comfortable working close to the eardrum. They are removable, adjustable and fixable. The criteria was initially quite strict, but technology and competition has improved so that there are more options now than there were two years ago. This is a device that is comfortable enough to sleep in if necessary. Be aware of the downsides…physical fit must be perfect; remakes of the shell are quite common. Wax issues and higher maintenance (occasional visits to the audiologist for cleanings are necessary). The most common repairs are replacement of the speaker and the microphone. But if you want a device that is comfortable enough to sleep in, or use the phone or headphones, these devices work extremely well. Oh yes…and did I mention that they are invisible like contact lenses? Call if you would like to set up an appointment to see if you are a candidate.
Parker Audiology has moved!
Parker Audiology, PC has moved from traditional 5-points (our original location since 1960) and changed to a new location on N. Division Street, next door to Popcorn Charlie's and across from Home Hardware. We are proud to improve our look and our service. Call Dr. Parker for an appointment and see what you have been missing today!
Filed Under: Health & Wellness, News
Tags: Aids, Appointment, Audiologist, Audiology, Cics, Contact Lenses, Dr Parker, Ear Canals, Eardrum, Headphones, Hearing Aids, Home Hardware, Iics, Microphone, Molly Parker, New Location, Occasional Visits, Remakes, Shell, Sleep
Trackback URL: https://www.50pluslife.com/2012/07/05/invisible-hearing-aids-iics/trackback/