July 5, 2012
On the Go With Joe Hutter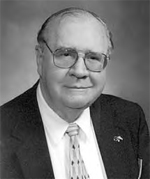 Seniors And Law
Enforcement Together (SALT)
By Joe Hutter
Welcome to summer, even though we never had a winter! I'm going to bounce around this month in this article.
Many of us live alone, and we have or have started to think of having that small dog or cat for company. The Attorney General of Iowa issued a bulletin last month on choosing and buying the right pet. The recommendation is to take the pet to your veterinarian to examine. Ask for a letter after the checkup, if anything is wrong with the animal. If the seller will not take the animal back, file a complaint with the Attorney General's Office at 1-888-777-4590 after you've tried to work with the seller.
Recently, I received a letter in the mail that looked very official with "Response requested in 10 days" on the outside of the envelope, asking for a donation to show support for local police. Inside the envelope was a letter, and part of the letter stated in small print, that "Donations do not go to local law enforcement agencies." The envelope to send the requested donation was addressed to a post office box in Washington, D.C. Please be careful who you send money to, and how the money will be used. Remember, there are many places you can help right here where you live. The local organizations need help now, more than ever. Programs in Illinois and Iowa need more funds than a group based in Washington, D.C. You do not have to answer anything you get in the mail, no matter what it says on the outside of the envelope. If in doubt, contact a relative, friend or your local police department. If you get an envelope that says "Request for immediate action, time sensitive material enclosed," you do not need to open it or answer.
If you get mail from a company that has information about your car, it probably is not from the car company, but a company with no address, just a phone number. The letter is trying to sell you an extended warranty on your car, which you already might have on your car. If in doubt, call the car
dealership where you bought your car for information.
There are new scams on seniors every day, so be careful with your money!
On August 2, S.A.L.T. (Seniors And Law enforcement Together) members will be at the Fair. It is Senior Day with savings on admission that day for seniors and FREE shuttle rides provided by fair board members. Anyone who has information for seniors is welcome to set up in the Genesis tent near the Fair office.
For more information, call Pam in the Scott County Sheriff's Office at (563) 326-8217. Take care!
Tags: Action Time, Attorney General, Car Company, Cat, Company Address, Donations, Doubt, Envelope, Extended Warranty, Hutter, Law Enforcement Agencies, Letter In The Mail, Local Police Department, Money, Phone Number, Post Office Box, Seniors, Sensitive Material, Veterinarian, Warranty
Trackback URL: https://www.50pluslife.com/2012/07/05/on-the-go-with-joe-hutter-33/trackback/