August 3, 2012
Option for Less Dependence on Glasses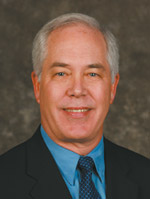 By Richard Phinney, M.D.
Eye Surgeons Associates
The most well known procedure to eliminate or reduce dependence on glasses or contacts today is LASIK. By using laser energy to reshape the front surface of the eye (the cornea) nearsightedness, and some farsightedness and astigmatism, can be corrected. Unfortunately, not every patient qualifies for LASIK, but, today we have a wide variety of options to
correct refractive error and help you gain independence from glasses.
One option is Refractive Lens Exchange, in essence cataract surgery without the cataract. Cataract surgery has reached such a height of perfection and safety that we are now able to offer its benefits to patients who just want to decrease their dependence on glasses. In other words, we don't wait for the lens to become cloudy and cataractous, we replace the clear lens, which focuses poorly, with an intraocular lens, which allows clear vision and reduces dependence on glasses. We can use a multifocal intraocular lens, which allows a clear focus at distance, intermediate and near without glasses. This eliminates the need for cataract surgery in the future, as a cataract can never form after Refractive Len Exchange. It solves the refractive problem with one lifetime surgery that reduces your dependence on glasses. Additionally, we can correct a much wider range of nearsightedness and farsightedness with this surgery than with LASIK. Refractive Lens Exchange is the best option for presbyopic hyperopes (farsighted people who need glasses for distance with a bifocal for near).
For patients with high amounts of nearsightedness, the Implantable Contact Lens (ICL) is a revolutionary refractive lens that can correct vision up to –15 diopters of nearsightedness. This lens is a posterior chamber implant that is situated behind the iris and in front of the natural crystalline lens. It is also known as a Phakic IOL. It's an option for people who do not qualify for LASIK due to thin corneas, excessive dry eye, extreme to moderate nearsightedness and large pupils.
These are just some of the tools currently at our disposal to reduce your need for corrective lenses. Like LASIK, all are considered elective procedures, and as with any surgery, all risks and benefits must be weighed for each individual. Talk to your eye care professional about what option might work for you. The joy of independence from glasses can be obtained for most people.
Dr. Phinney, a cornea specialist, sees patients in Eye Surgeons Rock Island and Geneseo offices. Eye Surgeons Associates provides comprehensive eye care for the entire family, for a lifetime from its offices in Bettendorf and Muscatine, Iowa; Rock Island, Silvis and Geneseo, Illinois. For more information visit www.esaeyecare.com.
Filed Under: Health & Wellness
Tags: Astigmatism, Cataract Surgery, Clear Vision, Cornea, Corneas, Dependence, Diopters, Eye Surgeons, Glasses, Implantable Contact Lens, Iris, Laser Energy, Len, Multifocal Intraocular Lens, Natural Crystalline Lens, Nearsightedness And Farsightedness, Phakic Iol, Refractive Error, Refractive Lens Exchange, Richard Phinney
Trackback URL: https://www.50pluslife.com/2012/08/03/option-for-less-dependence-on-glasses/trackback/