August 28, 2012
Alzheimer's and Dementia –The Need for Homecare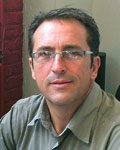 By Dan Adams
Lighthouse Homecare
I recently read a story in the USA Today written by Janice Lloyd. Her story was about a man who takes care of his wife. Here is part of the story:
John Becklenberg says his wife, Mary Ann, still cooks their dinner, although her favorite recipes are simplified to one or two steps. She also hasn't relinquished tidying up the kitchen of their Dyer, Indiana home, but there's more clattering of pots and pans than ever before. She was diagnosed six years ago with Alzheimer's disease, a brain-wasting illness that eventually robs people of their memories and personalities, and interferes with the simplest of tasks. John says his wife is in the early stages. Rather than taking charge, he and Mary Ann, both 68 and sweethearts for 42 years, discuss what she can do and how he can help. Every morning, they have "coffee and calendar" time, when he "reviews" with her what their day will involve. More recently, he has had to go over the daily schedule several times a day. Her "you never told me that" is followed with his "let's review," he says — but it's rather easy "when she's so pretty," he says.
The article continues with this fact: Women are still more likely to be caregivers, but the number of men caring for loved ones with Alzheimer's or dementia has soared from 19 percent to 40 percent in the past 15 years, according to the Alzheimer's Association. Among people over age 65 with the disease, about two-thirds are women (3.4 million), one-third men (1.8 million).
At Lighthouse Homecare, we are committed to taking care of those in need with Alzheimer's and Dementia. If you or a loved one need a break, we offer care from one to 24 hours and can assist you in many areas. Our goal is to help individuals and families stay together in their home as long as possible with a safety net. Caregivers have been trained to document and journal all care requirements and needs, as well as chart the client's progress for future physician or caregiver reference. We offer free confidential consultation. Please feel free to call us any time at (309) 786-9982 to inquire about how we can help.
Filed Under: Family, Health & Wellness
Tags: Alzheimer Association, Alzheimer Disease, Alzheimer S Association, Alzheimer S Disease, Calendar Time, Cooks, Dementia, Dyer Indiana, Fact Women, Favorite Recipes, Homecare, Janice, Lighthouse, Need A Break, Pots And Pans, Pots Pans, Sweethearts, Two Steps, Usa Today, Wife Mary Ann
Trackback URL: https://www.50pluslife.com/2012/08/28/alzheimer%e2%80%99s-and-dementia-%e2%80%93the-need-for-homecare/trackback/