August 28, 2012
In and Out of the Quad-Cities
Contributed by Gail McPike and Toni Hall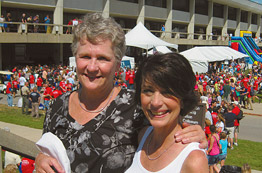 Gettysburg, In Reverie and Reality
Since early spring, it seems we've shared the same reoccurring dream. Yes indeed, not only do we anchor the hard news section of 50+, but we subject ourselves to the experience referred to as mutual dreaming. It's kind of a paranormal thing… and according to Current Trophy Husband (CTH), Phil, it might be the only time normal and our names appear in the same article. But, none the less, we've repeatedly gone to sleep, and "woke up" to a strange scene. Here's the scoop.
The sun is starting to burn through the morning haze of a beautiful hot summer day. Marshal music echoes in the distance, bouncing off the hills of a picturesque mountain valley. We look down to discover we two gals aren't clad in our normal snazzy tops and cool capris; we're wearing Confederate gray and a cute little kepi hat. Somehow, we're lining up with a guy named Pickett for an afternoon walk. We're joined by hundreds of ghostly figures dressed similarly, but unlike them, we're not carrying long Richmond Rifles. We're toting Mahjong sets. Suddenly, we hear a bugle blast, the charge is about to start. And then off goes our alarm.
Troubled by this weird mutual dream, we feel a mysterious force pulling us back to the crossroad town of Gettysburg, Pennsylvania. With our trusted manservants CTH Frank and Phil to carry the baggage, we heed the call and return to the scene of our dream. Before we report, allow us one moment.
In case you didn't realize it, this fine newsmagazine is not only published in the traditional print format, but also published electronically on the internet, where it can be read by folks round the world and on ships at sea. And, since some of them weren't lucky enough to catch the Ted Turner Gettysburg Movie, we'll provide a quick recap. Gettysburg is a sleepy little Pennsylvania town, which happened to find itself in the center of the single most decisive battle of the American Civil War. Robert E. Lee led his Confederate Army on an incursion of the Northern territory and was met in battle by the Army of the Potomac with General George Meade at the head. During the first three days of July in 1863, American faced American in one of the fiercest battles of history. Casualties (killed, wounded and missing) amounted to over 46,000 souls. If ever there were a place inhabited by ghosts, this is it.
Ok, back to Gettysburg. We have talked about visiting Gettysburg for a long time. Gail first visited 20 years ago and has been back several other times, but it was always a harried trip with kids, or on the way to someplace else. Toni had decided it was time for her first visit, so we loaded up the old Pacifica and headed down the road.
We were able to get rooms at the historic Gettysburg Hotel established in 1797, which is located on the Gettysburg town square just across the street from the house where Lincoln stayed when he visited the area to make the "Gettysburg Address." The small square is chocked full of civil war buildings, and we discovered a number of them which still hold the pock marks of rifle fire. Many still hang onto cannon balls which embedded themselves into the masonry.
To gain a better perspective of the expansive battlefield, which covers nearly 10 square miles, we hired a professional guide. These guides are truly amazing. Amateur historians with an in depth knowledge of even the smallest details of the battle, these folks make history come alive. John, our guide, was a retired ATT worker from the East Coast who had spent most of his family vacations traipsing over the battlefield before deciding to retire to the mountains just outside Gettysburg. While he took us on a two and a half hour tour, he pointed out his wife, who spent her free afternoons driving a tour bus. We can only imagine the conversations around their dinner table each evening.
So, what did we learn? After our time at the Battlefield National Park, our brains are chocked full of information, and we're dedicated to share the stuff your history teacher may have left out. First, the battle took place during one of the hottest Julys in history. Both armies were clad in wool, including wool undies – can you believe that? It makes us itch just to think about it.
Secondly, after the war, the veterans of both sides returned to the battlefield to commemorate their acts of valor and remember fallen comrades. Soon, they began setting up statues and memorials on the site of their exploits. Today, Gettysburg is the world's largest outdoor statue garden with over 1,300 statues and memorials. These things range from gigantic to plain and simple. We plan to go back and explore the monuments as a separate trip.
Gosh, time flies and our space is limited, so allow us to say, if you ever want to spend a really cool time and see some really neat sites – think about Gettysburg. But before we go, there are a couple of other points we need to share about the trip. Choco-taco, frozen treats, can be found in gas stations in Pennsylvania. And Luke's American Grill, downtown Gettysburg. serves maple long john donuts topped with bacon – yummy. Oh, and we'll tell you about the ghosts later. Happy September.
Tags: Afternoon Walk, Capris, Confederate Gray, Decisive Battle, Gettysburg Pennsylvania, Ghostly Figures, Hard News, Hot Summer Day, Mcpike, Morning Haze, Music Echoes, Mysterious Force, Pennsylvania Town, Picturesque Mountain Valley, Quad Cities, Reoccurring Dream, Ships At Sea, Strange Scene, Ted Turner, Trophy Husband
Trackback URL: https://www.50pluslife.com/2012/08/28/in-and-out-of-the-quad-cities-27/trackback/