August 28, 2012
On the Go With Joe Hutter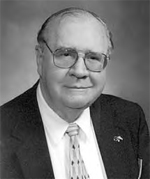 Seniors And Law
Enforcement Together (SALT)
By Joe Hutter
Have you checked your credit card bill and noticed a charge you did not make? More people are becoming a victim of a scam or fraud every day. If you see a charge you did not make on your credit card, you have a right to dispute the charges according to the Fair Credit Billing Act. This law does not apply to debit cards or loans.
When you notice something on your bill you did not approve, write a letter to the creditor and make a copy of your bill. Send the letter within 60 days from your first billing. The creditor must explain to you, in writing, the circumstances of the charge on your bill. The most you would be liable to pay is $50. If there is an ongoing problem, you can call the Iowa Attorney General's Consumer Protection Division at 1-888-777-4590.
If you receive a card in the mail with your car's make and model on the outside, please be careful. It might say something about responding in five days, or request immediate action by you. This is a request to buy extended coverage on your car's warranty, because you have gone over the new car warranty mileage. At the bottom of this card, in small print, it states that this is an advertisement to extend coverage on your car. It does not give a location of this company. It lists a toll-free number to call. Please be careful and talk to a relative, the Better Business Bureau or the Attorney General's Office in your state before you act on this card.
Mark September 20 on your calendar, as this is the date for the next Senior Expo.
It was great to talk to the people who came to the Genesis tent on Senior Day at the Mississippi Valley Fair. Generations, Plus 60 Club, 50+ staff, S.A.L.T. (Seniors And Law enforcement Together), members of the Davenport and Bettendorf Police Departments and the Scott County Sheriff's Office were all there!
Our next S.A.L.T. meeting will be on September 26 at 9:30 a.m. at CASI. If you are interested in having a meeting at your facility or would like a police officer or sheriff's deputy visit to your group, call Pam at the Scott County Sheriff's Office at (563) 326-8217.
Take care.
Filed Under: Community
Tags: Bettendorf, Better Business Bureau, Consumer Protection Division, County Sheriff, Credit Billing, Creditor, Davenport, Expo, Fair Credit Billing Act, Genesis, Hutter, Iowa Attorney General, Law Enforcement, Mail, Mileage, Mississippi Valley, New Car Warranty, Police Departments, Seniors, Toll Free Number
Trackback URL: https://www.50pluslife.com/2012/08/28/on-the-go-with-joe-hutter-35/trackback/