September 27, 2012
A Dream Come True – Local author realizes dream with the release of her debut novel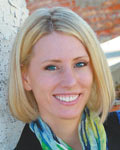 By Katie Ganshert
The love affair began in third grade, when my teacher read my story about Mr. and Mrs. Leaf out loud to the class. While most kids my age spent their free time watching Nickelodean, I spent my time lying in bed, filling spiral-bound notebooks with stories.
Oh sure, I still fished for crawdads in Duck Creek and rode the dizzy rides at the Mississippi Valley Fair and spent the summers riding my bike to Bettendorf Middle Pool before it became the fancier version we all know as Splash Landing. But in my free moments, I wrote.
I fell in love with words.
I wrote poetry in junior high, short stories in high school and journal after journal in college. It wasn't until I traveled to Kenya for three weeks of HIV/AIDS outreach that I moved onto something bigger. I came home from that trip with a novel exploding inside me. When I finished, I decided I didn't want to stop.
So, I wrote two more.
There's this saying. I'm sure you've heard of it. Third time's a charm.
It must be true, because my third novel is the one that caught the eye of a literary agent. It's the one that snagged the attention of a well-established publishing house. It's the one that became my debut novel.
I'll never forget the day my agent called. I was teaching at the time, a class full of fifth graders at Cody Elementary School in Le Claire. My phone buzzed, and my agent left a message. "Katie," she said, "this is the phone call you've been waiting for."
A division of Random House offered me a two-book deal. They wanted to actually pay me for something I'd do for absolutely free—share my words with readers.
Wildflowers from Winter was released on May 8, 2012. You can find it in all the major bookstores (Books-A-Million, Barnes and Noble, Family Christian Bookstore) as well as on Amazon.
It's a story set in Peaks, Iowa, a fictitious town loosely based off LeClaire. It's a story about coming home again. A story about hope after grief, healing after hurt, life after death. A story about the bonds of friendship and God's ability to use that which seems barren and lifeless to bring about something beautiful and breathtaking. Like a once snowy field bursting with wildflowers.
It's a story of my heart and a dream come true. I'm so honored and humbled that I get to share it with readers.
Katie (McGivern) Ganshert was born and raised in the Quad-Cities, where she resides today with her husband and their three-year old son. They are currently in the process of adopting a second child from the Congo. Her second novel, Wishing on Willows, releases March 19, 2013. She loves connecting with her readers online via her website (www.katieganshert.com) or Facebook (www.facebook.com/AuthorKatieGanshert) and visiting with local bookclubs.
Filed Under: Featured, News, Personal Growth
Tags: Aids Outreach, Amazon, Barnes And Noble, Cody Elementary School, Crawdads, Debut Novel, Duck Creek, Family Christian Bookstore, Fictitious Town, Fifth Graders, Free Share, Hiv Aids, Home Ag, Le Claire, Literary Agent, Lying In Bed, Major Bookstores, Mississippi Valley Fair, Riding My Bike, Splash Landing
Trackback URL: https://www.50pluslife.com/2012/09/27/a-dream-come-true-local-author-realizes-dream-with-the-release-of-her-debut-novel/trackback/