September 27, 2012
Gold Star Families Help Honor Flight!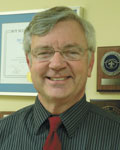 By Bob Morrison
Development Director of Ridgecrest Village
The 20th Honor Flight of the Quad-Cities was on September 20, 2012. More than 1,900 WWII Veterans have benefited from this free trip to see their memorial. Earlier this year, the board decided Korean War-time Veterans are also invited to go.
The board of directors of Honor Flight of the Quad-Cities met at Ridgecrest Village and decided to give Gold Star families a new opportunity. "A Gold Star family is a family who has lost anyone in combat during a war. We looked at involving relatives who lost someone in Iraq or Afghanistan," said board member Art Petersen. Petersen credited the Rev. Jim Olsen, an Honor Flight board member and member of the Patriot Guard, with coming up with the idea.
Rev. Jim Olsen suggested we offer these spouses and parents to be Guardians to support our veterans. "The Gold Star families have been a big part of things we do," said Olsen, who is involved in several veterans' events, including the Tribute to the Fallen. When asked about the reaction he said, "The Gold Star families told me that people are always trying to do something for us, and this is an opportunity for us to give something back. They are all very excited about it."
Art Petersen, a Ridgecrest Village resident, clarified that the 43 Gold Star members will join other Honor Flight volunteers in escorting the veterans on the day-long trip to see the war memorials and other sights in the nation's capital. Petersen said the special guardians represent 24 fallen soldiers. "Many are a man and wife who have lost a son or a daughter; some have lost their spouse."
The area families, who have lost a soldier in combat, will escort the 92 veterans of World War II and the Korean War who are participating in September's flight. The local Honor Flight board has asked the Gold Star families to take the one and half hours of training to be Guardians and is not allowing donations from them.
"We ask all interested citizens, who know a World War II veteran who has not made the trip, to turn in an application," said Bob Morrison, Hub Director. "Many are still around and don't realize they can and should go. Out of 162 on the plane, three or four are usually on oxygen or have medical issues. If they qualify, they will have a safe trip that will create positive and rewarding memories."
Our Quad-City area community is awesome! More than 200 volunteers help with every Honor Flight. Several give their time for all the flights. We should be very proud of our local citizens who give effort to honor our veterans. Please join us at the Quad-City International Airport in Moline at 10 p.m. on flight days to welcome home these heroes. Parking passes are provided to everyone participating in the greeting event.
Two of the Gold Star Guardians laid a special wreath at Arlington National Cemetery at the Changing of the Guard. Honor Flight displayed posters at the World War II memorial with photographs of the 24 Gold Star families' soldiers. In addition, two flags were presented at the memorial.
Ridgecrest Village encourages even more community involvement with flights scheduled next year. Honor Flight has 800 Korean vets on a waiting list ready to go and is still accepting applications. Find applications at www.HonorFlightQC.org or call Ridgecrest Village at (563) 388-3271.
Filed Under: Community, History
Tags: Bob Morrison, Development Director, Family Is A Family, Flight Board, Free Trip, Gold Star Families, Honor Flight, Jim Olsen, Korean War, Korean War Time, Long Trip, Man And Wife, Member Art, Quad Cities, Rev Jim, Star Family, Star Members, War Memorials, World War Ii, Wwii Veterans
Trackback URL: https://www.50pluslife.com/2012/09/27/gold-star-families-help-honor-flight/trackback/