September 27, 2012
Max's Musings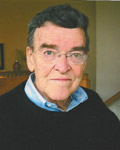 By Max Molleston
Although I do not focus on lifestyle, lives and styles of poetry and poets have been subject to more scrutiny than their poems over time. I want to reflect on our lifestyles some, for your October column of Max's Musings. Late summer, I was in a bookstore to search out and purchase a book for my brother-in-law for his birthday. I do buy new books of certain poets. I am not a steady customer of any particular bookstore. I would spend money into the hundreds over a few months, because I want that book or those books to read. My reading is generally educational or non-fiction. I want to know, and I enjoy that kind of learning process. Now, we come to the challenge of our lifestyles. I am reading into three books now, and there is not enough time to get it done. Then, we have all the publicity about our fitness. That seems to be and is important to those of us in the 50+ age range. Medical folks and fitness folks lay claim to better lifestyles through exercise. So, if we sit around enjoying what we read, we are, or are we, violating all that good advice? Friends of my wife and yours truly, listen to books while on the road for longer trips. Some of you readers may be doing that, too.
It comes to this. How do we spend, literally, our time? Active or that big dreaded word, sedentary? "To sit, or much sitting" claims my dictionary. Walking is said to be a cheap, effective way to stop sitting, but it is not effective when reading. On and on, with who we are and how we manage our lives to the benefit of ourselves and those we love and value.
I always sit when I compose poetry, with pen and paper or on the computer screen. I may think of a starting line or so while awake in bed or in some other place, but I am usually seated. Many, many Iowans are probably doing what I do to create their poems. Word by snail mail (the only acceptable transmission) to the Iowa Poetry Association publication, Lyrical Iowa. Results: poems that won categories or placed, and others of us who gained publication in the volume. My poem will be included, and I include it here.
Prime Time Harvest

The powerful Mississippi River is full now,
showing an impatient side. October harvests
from bountiful middle American watersheds
shows flow from fields, lawns and bigbox parking lots,
water conjugating within and outside historic river
pathways. Slow and easy, no longer hostage
of the downstream rush, the Captain trusts his rudder;
experience and patience push tightly coupled barges
until a string of efforts match docking points.
When the Mississippi River channel widens,
navigation locks and dams lose their jobs.
How did this poem get this far? I was crossing the Government Bridge toward Aresenal Island and Rock Island, Illinois, when barge traffic opened the span and stopped traffic the last time the Mississippi and some of its tributry streams were full. It was a year or two ago. High water running swift, with the dams pulled up, out of the Mississippi River flow. I was the witness and began the poem while stalled with others. The rest issued from memory of what takes place in flood situations and how river traffic is handled all the time, not just when the river is deep and the flow is swift. Before our family moved to Coralville to be near our daughter's family, we lived, worked and raised our kids for forty years in Davenport, which we say, "is on the Mississippi River."
Judging poetry is mostly subjective, with likes and dislikes of the responsible Judge, but in the end, to avoid things like ties in poetry competition, there has to be some distinguishing word or phrase, or some error in forming the poem that separates a tie.
I think I have gone a little long this month, and will attempt to be as good or better (maybe shorter) next month, Please join me.
Filed Under: Personal Growth
Tags: Association Publication, Bookstore, Computer Screen, Dictionary, Good Advice, Lifestyles, Medical Folks, Musings, New Books, Non Fiction, Pen And Paper, Poems, Poetry Association, Poets, Publicity, Scrutiny, Snail Mail, Starting Line, Steady Customer, Three Books
Trackback URL: https://www.50pluslife.com/2012/09/27/max%e2%80%99s-musings-37/trackback/