September 27, 2012
On the Go With Joe Hutter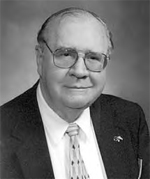 Seniors And Law
Enforcement Together (SALT)
By Joe Hutter
Yes, it is October, and it is almost time for all those extra phone calls to stop. The calls we are receiving from political parties or polls are part of the election process. A major concern is "Do Not Give Personal Information to a Stranger."
If you get something in the mail asking you for money, think twice before you write the check. Remember, if it sounds too good to be true, it is probably not true.
Check on any organization to see if it is non-profit. There are more and more schools, churches and civic clubs that will put your money to a needed program or person.
Many of the readers attended the Senior Expo in Bettendorf on September 15. What a good program, both in enjoyment and education.
On November 12, at the Pizza Ranch in Bettendorf, a fund raiser for RSVP will be held. The Retired Senior Volunteer Program will use funds to help the various programs they find volunteers for. There is a definite need for volunteers to help children after school to read and improve math skills. Volunteers are also needed to help children in other areas. If you are interested in volunteering, call Linda at (309) 793-4425.
This article will not go into details, but if you get a letter in the mail saying you won anything and a self-addressed envelope with a Hong Kong return address, think twice before you send money.
Remember, the Iowa Attorney General's Office has a Consumer Protection Division, so call 1-888-777-4595 if you have questions.
If you have questions or if your group would like an officer to visit, call your local police department or Scott County Sheriff's Office.
If you would like our SALT (Seniors And Law enforcement Together) meeting to come to your senior group, call Pam at the Scott County Sheriff's Office at (563) 326-8217. Sheriff Dennis Conard is very supportive of deputies educating seniors on senior programs and senior issues. Remember, "An ounce of prevention is worth a pound of cure."
Take care.
Tags: Bettendorf, Civic Clubs, Conard, Consumer Protection Division, County Sheriff, Definite Need, Deputies, Fund Raiser, Hutter, Iowa Attorney General, Letter In The Mail, Local Police Department, Math Skills, Ounce Of Prevention, Pizza Ranch, Political Parties, Return Address, Self Addressed Envelope, Senior Group, Volunteer Program
Trackback URL: https://www.50pluslife.com/2012/09/27/on-the-go-with-joe-hutter-36/trackback/