October 29, 2012
Documents everyone needs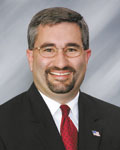 By Curt Ford
Nash Nash Bean & Ford
Here's a scenario that some families sadly face: They contact their attorney to explain that an elderly relative is no longer able to care for himself. Perhaps the family just went to visit the loved one and found filthy living conditions, bills piled up and little food in the home.
"We want to be able to help," they tell the attorney. "What can we do?"
The attorney asks: "Do you have a power of attorney so you can handle financial matters or a power of attorney or health care proxy so you can make medical decisions?"
Unfortunately, the elderly relative never got around to executing those documents. Because no one has a power of attorney or health care proxy, the family can turn to a court to have someone appointed as a guardian. In some states, guardians are called "guardians of the person" who handle personal issues or "conservators" who handle financial issues. If desired, there can be more than one person appointed — one to handle financial matters and another to handle health care issues. But the guardianship process can be time consuming, contentious, and expensive. It should be seen as a last resort after less drastic measures are examined.
How Can Your Family Avoid This?
To avoid court intervention, you should have certain legal documents that allow you to choose who you want to make financial and health care decisions on your behalf. Having these documents in place is an inexpensive alternative to going to court for guardianship. Documents include:
• A durable power of attorney is a legal document enabling you to designate another person to act on his behalf in the event you becomes disabled or incapacitated.
• A financial power of attorney allows an individual to make decisions such as paying bills, handling investments and filing tax returns.
• A power of attorney for health care, or a health care proxy, designates someone to make medical decisions for you if you are unable to do so.
A living will specifies which life-prolonging measures you do, and do not, want to be taken if you becomes terminally ill or incapacitated. These written instructions are made while you are still competent.
The requirements for these documents vary from state to state. If you move to another state or own homes in more than one state, check with your attorney to ensure your documents are valid.
A guardian or conservator appointment can cost 10 times as much (or more) as getting the alternative documents executed. This is truly an example of why it is better to plan in advance, rather than waiting until a situation is out of control.
Nash Nash Bean & Ford are members of the American Academy of Estate Planning Attorneys and the National Academy of Elder Law Attorneys. To receive a copy of our most recent newsletter "Your Estate Matters" or for a free consultation on Estate or Long Term Care Planning, call 309-944-2188, 309-762-9368 or 1-800-644-5345. You may also contact our firm by email at info@nashbeanford.com or visit our web site at http://www.nashbeanford.com.
The firm devotes its practice primarily in the areas of estate, business and tax planning and related areas of the law, as well as elder law and trust administration and probate. We offer guidance and advice to our clients in every area of estate planning.
This column is designed for general information purposes only, and is not intended, nor should be construed or relied upon, as legal advice. Please consult your attorney if specific legal information is desired.
Tags: Amp, Conservators, Court Intervention, Drastic Measures, Durable Power Of Attorney, Financial Matters, Guardian, Guardians, Health Care Decisions, Health Care Issues, Health Care Proxy, Investments, Last Resort, Legal Document, Legal Documents, Little Food, Medical Decisions, Nash, Personal Issues, Power Of Attorney
Trackback URL: https://www.50pluslife.com/2012/10/29/documents-everyone-needs/trackback/