October 29, 2012
In and Out of the Quad-Cities
Contributed by Gail McPike and Toni Hall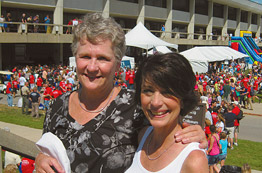 Gail and Toni are Mighty Thankful… and here's the list to prove it…
It's the Thanksgiving Season. Soon we'll be bombarded with pictures of pilgrims, freshly toasted turkey and the local merchants will flip the switch on their Mazak system from elevator oldies to all Yule all the Time. Santa will jot a few last minute instructions for the head elf, give the misses a peck on the cheek and pack his suitcase with a few extra pair of red PJ's and enough toothpaste to handle his daily duties down at North Park Mall. Thanksgiving comes with all this and a bunch more. But, we've decided to skip the trip down sentimental seasonal lane. Instead, we're going all out with what we call the Gail and Toni thankful list. So with a mental drumroll and a few thousand trumpets drowning out the voices in our head, here goes.
Gail is thankful she had the opportunity to fulfill a long time dream of reenacting the famous Pickett's charge. Earlier this year, while visiting the Gettysburg Pennsylvania Battle Field National Park, Gail marched the mile and a half trek that changed American history. Braving the same 100 degree July heat as the gallant men of George Pickett's First Virginia Corps, Gail and her second in command, Current Trophy Husband (CTH) Frank, came out of the woods atop Seminary Ridge and trudged through the fields toward the stone fence and the Great Angle. After reaching the "High Watermark of the Confederacy," CTH Frank was thankful not to have suffered heat stroke.
Toni is thankful that once again this year she was able to make the journey to California to participate in Witches Weekend. Each year a group of longtime girlfriends get together on the weekend closest to Halloween to celebrate their many years of friendship. And, because dressing up and trick or treating is way too much fun to be left purely for children, these ladies don elaborate witches outfits, with each one going to just a little more effort each year. This group of a dozen or so gals becomes a milliner's worst nightmare, sporting pointy hats with decorations from throughout the superstitious world. At the, well shall we say, witching hour, the group heads to Tahoe City, where they provide another bit of spectacle in restaurants and bars throughout the quaint little resort town. Our guess is the citizenry of Tahoe are thankful Witches Weekend comes but once a year. CTH Phil is thankful for his professorial duties, which prohibit his attendance at this event.
We are both mighty thankful for all the friends we have made through our wool and fiber hobby. The Valley Spinners and Weavers Guild has provided us with many talented friends, all willing to share their love of fiber, spinning, knitting and weaving. We've learned so much. We've played with wool in all its natural settings from barnyard to backyard sweater.
Mahjong, did we happen to tell you we're thankful to that Confucius fellow for inventing our new favorite game. Our pals who meet each week down at the Yacht Club for a friendly game were kind enough to patiently teach us how to play. In our estimation, they are a Quad-Cities treasure. And lest we be haunted for the next year, we're thankful the ghost of Fannie Solomon is a friendly poltergeist.
Our State Fair is a Great State Fair. We're pretty darn thankful the Frake farm family made the trip to the Iowa State fair in that 1945 film classic. Everybody in that fictional clan found love right down to their prize pet pig Blueboy. We're thankful that the lights of the mighty midway shown from horse barn to Varied Industries Pavilion, where we both somehow managed to rake in a ribbon.
But thankful needn't be elaborate. Gail attests to the fact her granddaughters are thankful for the Lighted Bridge in Downtown Davenport. Little girls can enjoy the nighttime light show, check out the cascading colors of The Rhythm City, the river and get a little exercise any day of the year; hot, cold, rainy or in between.
And speaking of the River, every time we drive down River Drive at night, the lights of the Centennial Bridge send little chills up and down our spines. We have one of the prettiest "riverscapes" on the planet. In terms of raw beauty, it has to rival the Seine of "Gay Paree," without the hassle of learning French. Thanks be to Ol' Man River for following through the heart of our town.
No piece of this nature would be complete without a hearty thanks for the many events packed into the QCA calendar. There are the fests, Blues, Bix, Street, River, Rib and more. Farmers markets, breweries, gambling boat buffets and Boozies Bar and Grill are on our list. And, we have a number of very tasty combinations to choose from. Our favorite new recipe involves the flavor of Classical String Quartet and the gourmet food from the Crane and Pelican in LeClaire. We encourage you to taste the musical talents of Quartrio on their next scheduled visit to this 1800's mansion turned restaurant.
But, thankful is as thankful does, and we have to sign off with our special best wishes for a great and bountiful holiday. Pass the dressing and save us a spot in line on the Friday after.
Filed Under: Community, Featured, Humor
Tags: Confederacy, Cth, Drumroll, Gallant Men, George Pickett, Gettysburg Pennsylvania, Head Elf, Heat Stroke, High Watermark, Mcpike, North Park, North Park Mall, Pictures Of Pilgrims, Quad Cities, Seminary Ridge, Stone Fence, Thanksgiving Season, Time Dream, Trophy Husband, Yule
Trackback URL: https://www.50pluslife.com/2012/10/29/in-and-out-of-the-quad-cities-28/trackback/