October 29, 2012
Max's Musings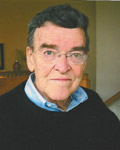 By Max Molleston
For a month or so, I have been ruminating about an eastern poet and one from the midwest. As time has gone on, the eastern poets and their institutions try to hold sway over the best that is done, or at least the best, judged by poets other than the writers.
In plain language, that includes easterner Robert Frost and Carl Sandburg, Illinois-born and best known for his poems about Chicago. Decades living and writing verse before, Sandburg got a prize from Poetry magazine in 1914. Poetry Magazine is in the process of celebrating a century in the
business of evaluating and printing poetry, and its criticism. Late in September, PBS TV aired an hour on Sandburg, filling those of us who respected his poetry, on his life as he lived it. He wrote for publications that would pay him to do so. He was a stand up speaker for various causes and points of view. Back to Robert Frost, and the season.
Nothing Gold Can Stay
Nature's first green is gold,
Her hardest hue to hold.
Her early leaf's a flower;
But only so an hour.
Then leaf subsides to leaf.
So Eden sank to grief,
So dawn goes down to day,
Nothing gold can stay.
A short rhyme poem for those of you whose appreciation for matching words and round sounds needs help now and then. I have two copies of The Poetry of Robert Frost published in 1969, including his poems dating back to copyrights in 1916. One was purchased at the Bettendorf GOODWILL in May of 2010 by my friend Dick Mackin. I have exclaimed over time in other columns how Mackin has been my benefactor for decades. He has scouted out books of poetry at his cost, and forwarded these to me two and three at a time from all kinds of garage and yard sales, and as we say, GOODWILL. Maybe there is a volume waiting for you at some of these locations, adlibbed and identified, variously. Another short poem seldom showcased.
The Rose Family
The rose is a rose,
And was always a rose.
But the theory now goes
That the apple's a rose,
And the pear is, and so's
The plum, I suppose.
The dear only knows
What will next prove a rose,
You, of course, are a rose—-
But were always a rose.
These are yust two of a book-full. Neither with lots of consequence but, as I see it, poetry that those amateurs of us can think up and write down. Here is another subject fairly easy for us 50+ers to recall and write about.
Fireflies In The Garden
Here come real stars to fill the upper skies,
And here on earth come emulating flies
That, though they never equal stars in size
(And they were never really stars at heart),
Achieve at times a very starlike start.
Only, of course, they can't sustain the part.
It's been months, maybe years, since I dug back into Mr. Frost and his nimble attitude in these short poems. They rhyme, and are "down home stuff" that are easy to read and listen to, and for some, as in the fireflies poem, to emulate. You, who may write for any reason, can write (and perhaps have written) poems as short and cute as these. These might have been Robert Frost's "starter" poems. I began my verse writing with poems similar in structure to the three you've been witness to this month. The seasons of joy and concern and celebration begin, and stretch many, many days ahead. Participate and enjoy and join me here in December.
Filed Under: Personal Growth
Tags: Benefactor, Carl Sandburg, Easterner, Friend Dick, Goodwill, Grief, Hue, Musings, Pbs, Pbs Tv, Pear, Plain Language, Plum, Poetry Magazine, Poetry Of Robert Frost, Poets, Rhyme, Robert Frost, Rose Family, Short Poem
Trackback URL: https://www.50pluslife.com/2012/10/29/max%e2%80%99s-musings-38/trackback/