October 29, 2012
On the Go With Joe Hutter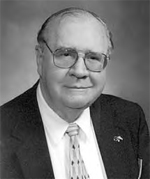 Seniors And Law
Enforcement Together (SALT)
By Joe Hutter
Wow!! Won't we be happy when Election Day comes on November 6? The phone calls will stop; the poor mail person will have a large load lifted off of their shoulders. Don't believe everything you hear or read. Most of everything you read during this time are half truths or too good to be true.
You might think I am writing about political mail, but this is also about most of the mail we get today. This is especially true for senior citizens. How many envelopes do you get with checks written to you in them and then asking you to send the money back to them along with some of yours? Did you know there were so many needy programs in the world? My point to all of this is that it is very difficult to find out how much money goes to the program or needy and how much goes to salaries of the CEO or director and their staff.
Christmas is coming soon. You will be getting requests for money beginning this month. Please know the organization before you send money. If you don't know for sure, give your money to your church or a local charity. We have many very good charities and social service groups in our area: John Lewis Group, Red Cross, Family Resources, Boy and Girl Scouts, 4H Clubs, Salvation Army, CASI, your grandchild's school and on and on.
One other thing to remember is that if it sounds too good to be true, it probably isn't true. If you are a computer owner, don't give personal information over the internet, just like you wouldn't give it to a stranger on the telephone. Be leery of
survey questions over the telephone. Be careful and be safe.
Remember SALT (Seniors And Law enforcement Together) Group meets the fourth Wednesday of the month at 9:30 a.m. at CASI. Stop by and say hello. If I can be of help or if you have any questions, call Pam at the Scott County Sheriff's Office at (563) 326-8217.
Take care.
Filed Under: Community
Tags: 4h Clubs, Computer Owner, County Sheriff, Cross Family, Election Day, Family Resources, Girl Scouts, Hutter, John Lewis, Lewis Group, Mail Person, Needy Programs, Owner Don, Political Mail, Red Cross, Salvation Army, Senior Citizens, Social Service Groups, Staff Christmas, Survey Questions
Trackback URL: https://www.50pluslife.com/2012/10/29/on-the-go-with-joe-hutter-37/trackback/