October 29, 2012
Powerful Potatoes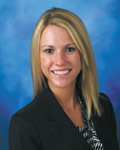 By Molly Muchow RD, LD
Hy-Vee Registered Dietician
(563) 359-9323
mmuchow@hy-vee.com
Potatoes are one of the greatest nutritional values in the produce department. Potatoes are low-cost and packed with essential nutrients. Potatoes have more Vitamin C and potassium than bananas and apples. Known as a "starchy vegetable," potatoes can be considered a healthy carbohydrate and a nutrient-packed vegetable. A versatile vegetable, potatoes can be served for breakfast, lunch, dinner and snacks!
Potatoes are packed with vitamins and minerals, antioxidants and fiber. At about 30 cents a serving, potatoes eaten with the skin provide Vitamin C, potassium, vitamin B6, magnesium and fiber. In addition, they are free from fat, cholesterol and sodium. Sweet potatoes also provide beta-carotene, another powerful antioxidant. All that and no fat, cholesterol or sodium!
It is not the potato, but what you put on top that makes a potato a healthy or not-so-healthy choice. Alter your toppings to keep the potato low in fat, cholesterol and sodium. Try any one or a combination of the following toppings:
• Steamed broccoli, other veggies in olive oil
• Sliced green onions
• Parmesan cheese
• Plain Greek yogurt
• Low-sodium seasonings
• Light salad dressings – creamy Italian, Caesar
• Reduced-fat sour cream
• Salsa
• Guacamole
• Pesto sauce
• Marinara sauce
• Vegetarian chili
There is not just one way to cook a potato! Potatoes can be microwaved, baked, broiled, boiled, roasted, mashed, layered, sautéed, stewed or added to scrambled eggs, soups and stews. Even leftovers can be used in wraps, salads or sandwiches.
3 Ways to Cook a Potato Source: United States Potato Board

Baked – Conventional Oven Method:
Preheat oven to 450°F. Wash and dry potatoes. With a fork or sharp knife, pierce each potato two or three times. Place on cookie sheet or baking pan. Bake 50 to 60 minutes or until tender when pierced with a fork.
Microwave Method:
Wash and dry potatoes. With a fork or sharp knife, pierce each potato two or three times. Place potatoes in a circle on a paper towel, leaving a 1-inch space between each potato. Cook on HIGH for 15 to 20 minutes or until tender when pierced with a fork. Turn once during cooking. Let potatoes stand for five to 10 minutes before serving.
Roasted
Scrub potatoes gently. Leave the skin on for more fiber. Cut into bite-sized pieces. Toss with olive oil. Put potato pieces in a shallow roasting pan or on a baking sheet. Sprinkle with salt, ground black pepper, chopped herbs or spices to taste. Roast in hot oven (375 to 425 degrees) until vegetables are tender and browned, about 30 minutes.
Yukon Gold and Sweet Potato Mash
Serves 6 (about 2/3 cup each)
Active time: 15 minutes Total time: 40 minutes
All you need
1 pound Yukon Gold potatoes, peeled and cut into 1 1/2-inch chunks
1 pound sweet potatoes, peeled and cut into 1 1/2-inch chunks
1/2 cup Hy-Vee low-fat milk
2 tbsp Hy-Vee butter
1 tsp Hy-Vee brown sugar
3/4 tsp salt
1/4 tsp Hy-Vee freshly ground pepper
All you do

1. Place potatoes and sweet potatoes in a large saucepan and add enough water to cover. Bring to a boil over high heat and cook until very tender when pierced with a fork, 20 to 25 minutes.
2. Drain the potatoes, then mash them in the pot to the desired consistency. Place milk and butter in a small bowl and microwave on High until the butter is mostly melted and the milk is warm, 30 to 40 seconds. (Alternatively, place in a small saucepan and heat over medium until the milk is warm.) Stir the milk mixture, sugar, salt and pepper into the mashed potatoes until combined.
Nutrition facts per serving: 151 calories; 4g fat (3g sat, 0g mono); 11mg cholesterol; 26g carbohydrate; 1g added sugars; 3g protein; 3g fiber; 321mg sodium; 369mg potassium. Nutrition bonus: Vitamin A (190% daily value), Vitamin C (20% dv). Carbohydrate servings: 2
Source: adapted from Eating Well, Inc.
This information is not intended as medical advice. Please consult a medical professional for individual advice.
Molly Muchow is a registered dietician at Hy-Vee. She can be reached at (563) 359-9323 or mmuchow@hy-vee.com.
Filed Under: Health & Wellness
Tags: Breakfast Lunch Dinner, Conventional Oven, Creamy Italian, Essential Nutrients, Green Onions, Light Salad, Low Sodium, Microwave Method, Muchow, Oven Method, Potato Board, Produce Department, Salad Dressings, Sauce Marinara, Scrambled Eggs, Soups And Stews, Starchy Vegetable, Sweet Potatoes, Vegetarian Chili, Versatile Vegetable
Trackback URL: https://www.50pluslife.com/2012/10/29/powerful-potatoes/trackback/