October 29, 2012
PUBLISHER'S CORNER – Counting my blessings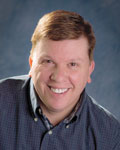 By Mike Mickle
Welcome to November, everyone. We are firmly in Fall's grip. The trees are beautiful, the air is crisp and in our house, fall sports mania has taken hold. We reached a milestone last month. Our youngest son, Matt turned 10. That signaled the end of single digits in the Mickle house. For some reason, 10 seems much older than 9. Matt is the one who really keeps us hopping. He is currently in fall soccer, fall baseball, flag football and already practicing for the basketball season. Combine that with Kate's swimming and volleyball, Kyle's fall basketball and the other craziness that is our lives and there's not a lot of downtime!
Still, I find myself assessing life and counting my blessings. November is a great month to do that. As I look at our children, I am amazed at how quickly they are growing. Kyle is a freshman in high school and taller than me. Kate is now in junior high and turning into a very responsible young woman… and Matt is still a bundle of boundless energy, but even he is maturing. Karen and I are raising children that are turning into young adults, and they are young adults we truly enjoy spending time with. That's something to be thankful for. As overwhelming as the kid's schedules can become, I'm thankful they have found activities they enjoy. I am thankful I can attend the basketball games, soccer games, football games, swim meets, baton competitions and band concerts. I'm thankful they still want to spend time with us (occassionally), and I'm thankful they make smart choices, most of the time.
We are also thankful for the friends we have and for all of you! You make this publication successful. I hope you have a wonderful Thanksgiving.
From our family to yours, Happy Holidays!
Filed Under: Family, Personal Growth
Tags: Band Concerts, Basketball Games, Basketball Season, Boundless Energy, Counting My Blessings, Craziness, Downtime, Fall Baseball, Fall Soccer, Fall Sports, Flag Football, Football Games, Happy Holidays, Smart Choices, Soccer Fall, Soccer Games, Spending Time, Sports Mania, Young Adults, Youngest Son
Trackback URL: https://www.50pluslife.com/2012/10/29/publisher%e2%80%99s-corner-counting-my-blessings/trackback/