December 2, 2012
Give yourself the gift of reassurance this holiday season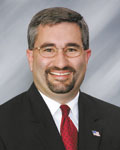 By Curt Ford
Nash Nash Bean & Ford
Michael comes into town every year for the holiday season to visit his elderly mother, who has been living alone since his father died three years ago. He talks with her frequently, and she sounds fine over the phone, but he still has concerns that there might be more happening in her life than the conversations have shared.
Michael is not alone in his concerns for a far-off, elderly parent or relative. According to one caregiving source, up to 45 percent of the elderly do not have a local caregiver.
This holiday season, take time to do more than eat extra helpings of Mom's pumpkin pie: engage in more in-depth conversations to make sure your elderly parents or relative are still safe and secure. Some tips to make sure your parents or elderly relatives are secure as they age:
• Are they newly reluctant to discuss any financial matters while appearing to be running low on cash? Or do they frequently talk about a new friend who is reluctant to appear when you're in town. Make sure that your parent or relative is not becoming a victim of financial elder abuse.
• If possible, have conversations with long-time neighbors, friends or other professionals. Frequently an elderly relative may be able to maintain appearances for visiting family or during telephone calls, but they may have challenges in day-to-day activities witnessed by friends or helpers.
• Check the refrigerator and pantry for plenty of nutritious food and that all expiration dates are current. As we age, our appetites may decrease and it is important that older relatives are eating healthy.
• Review the living situation. Are they still safely mobile in their home? Are they able to safely climb stairs? Are there throw rugs or cords that need to be moved to prevent a tripping hazard?
The holidays are a great time for families to gather, and it can also be a great time to make sure that your elderly relatives are continuing to live safely.
Nash Nash Bean & Ford are members of the American Academy of Estate Planning Attorneys and the National Academy of Elder Law Attorneys. To receive a copy of our most recent newsletter "Your Estate Matters" or for a free consultation on Estate or Long Term Care Planning, call (309) 944-2188, (309) 762-9368 or 1-800-644-5345. You may also contact our firm by email at info@nashbeanford.com or visit our web site at http://www.nashbeanford.com.
The firm devotes its practice primarily in the areas of estate, business and tax planning and related areas of the law, as well as elder law and trust administration and probate. We offer guidance and advice to our clients in every area of estate planning.
This column is designed for general information purposes only, and is not intended, nor should be construed or relied upon, as legal advice. Please consult your attorney if specific legal information is desired.
Filed Under: Finance
Tags: Appetites, Caregiver, Caregiving, Elderly Mother, Elderly Parent, Elderly Parents, Elderly Relatives, Expiration Dates, Financial Elder Abuse, Financial Matters, Great Time, Holiday Season, Nash, New Friend, Nutritious Food, Pantry, Pumpkin Pie, Reassurance, Telephone Calls, Time Neighbors
Trackback URL: https://www.50pluslife.com/2012/12/02/give-yourself-the-gift-of-reassurance-this-holiday-season/trackback/