December 2, 2012
In and Out of the Quad-Cities: He knows if you've been Naughty…. The Full Report
Contributed by Gail McPike and Toni Hall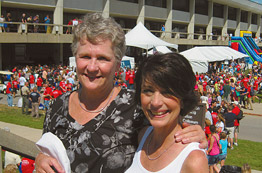 Editor's Note: After repeated attempts to reach our always roving reporters Gail and Toni, we sent out an all-points bulletin in hopes of reaching them. While we received no official word from either of them, we were surprised when this note appeared in our inbox.
Santa's Secret Workshop, North Pole
To the Editors of 50+ Lifestyles,
Today, Elf Gherkin interrupted my schedule with an APB on this Gail and Toni duo who seem to be a quart low on making their deadlines with your publication. Sadly, this kind of behavior doesn't really surprise me. These two have been bouncing on and off the naughty list for well over a half century. And over the years, I have deposited enough coal in their stockings to power the whole Midwest. If it weren't for the stellar behavior exhibited by their Current Trophy Husbands (CTH) Frank and Phil, the reindeer would know the only deposit for their house would come in the form of deer
droppings.
Since I have a few moments between checking in with the Elves down at the toy factory and a lunch date with Mrs. Claus, I thought I would do my part for your publication and share the latest report from "the master list." For those boys and girls who may read this, let me remind you with the words of the song;
Santa knows when you've been naughty and he knows when you've been nice, he knows when you've been bad or good, so be good for goodness sake.
Clearly these two have forgotten this important refrain. To tell you the truth, some of these incidents are painful for this jolly old elf to repeat. I think I'll just do a copy and paste from the North Pole master list.
Naughty Incident #102612

Gail and Toni were seen entering Circa 21's Speakeasy Playhouse, a place known to serve strong drink and wine. Rather than attending the Santa approved "Miracle on 34th Street" soon to be playing next door, the event listed was the Quad-Cities Bottom's up Burlesque. According to the Elf Mark, who followed them inside, the event contained raucous humor, loud singing and young ladies dancing in their undergarments. Immediately following the show, the subjects were heard planning a repeat visit on New Year's Eve. Naughty factor – 8, Nice factor – 0.
Naughty Incident #101712

The Elf Cam caught Gail traveling across the border to Quebec City, Canada. She was seen roaming the streets of the historic walled city which is the Capitol of French Canada. We followed her as she walked the ramparts and viewed the beautiful St. Lawrence River. Forward observers watched in shock as she went from shop to shop without so much as a "S'il vous plait" (please) or "merci beaucoup" (thank you). This kind of international rudeness has to stop. Naughty factor – 5, Nice factor – 1. Santa's personal note to good boys and girls: If you travel to a place where no one speaks English, learn a couple phrases of French.
Naughty Incident #100112

The California Elf Patrol reports Toni attempting a disguise to throw off their team of observers. She was observed with a group of women dresses as a witch roaming from place to place throughout Tahoe City. It took a team of clandestine elves to keep track of the behavior as they entered a number of establishments known to serve food and libation. The elf team was certain the drink being served in the tiny martini glass were not vitamin enhanced witches brew. Santa please note: this California trip seems to be an annual event for Miss Toni. Our records indicate this group of women has unsuccessfully tried the disguise thing before. Next year's stakeout will be more elaborate. Naughty factor – 9, Nice factor – 2.
Naughty Incident #111512

Subjects observed entering the Quad-Cities' Center for Active Seniors (CASI). While the team of forward observers can vouch for much naughtiness in this duo's past, this has to take the Christmas Fruit Cake. They were seen bringing their otherwise always nice mothers into a boisterous party called the Hat Bash. Billed as the "Party with a Purpose" we noted copious amounts of hor devours, wine, beer and festive music. Most of the attendees had decked their halls with crazy hats. One attendee even had the audacity to don a Santa hat – these people had no shame. Naughty factor -7, Nice factor -5.
December 2012 Preliminary Status
In summary, we here at the North Pole are very concerned by ongoing record of Gail and Toni. Their status as habitual offenders on the naughty list points to some deep rooted issues. What's worse, our Elfian Experts see them as bad influence on one another. When they get together, they go from borderline nice to off the scale naughty. As of today, their chances of receiving anything from the Red Suited One lies between zip and zero.
Yours Truly,
Santa
PS: Remind everyone that Santa's team is closely monitoring them. And thanks for the milk and cookies.
Filed Under: Humor
Tags: Apb, Boys And Girls, Deer Droppings, Elves, Gail, Gherkin, Goodness Sake, Mcpike, Miracle On 34th, Miracle On 34th Street, Mrs Claus, North Pole, Quad C, Quad Cities, Reindeer, Secret Workshop, Speakeasy, Strong Drink, Toy Factory, Trophy Husbands
Trackback URL: https://www.50pluslife.com/2012/12/02/in-and-out-of-the-quad-cities-he-knows-if-you%e2%80%99ve-been-naughty%e2%80%a6-the-full-report/trackback/