December 2, 2012
On the Go With Joe Hutter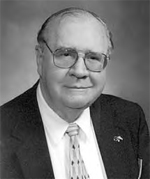 Seniors And Law
Enforcement Together (SALT)
By Joe Hutter
Yes, it is December. The end of 2012 is only days away. Christmas is a wonderful time of the year. We also receive many requests for donations in December. If you get a request over the phone or an official looking envelope in the mail, read it carefully and think more than once before you write them a check. Christmas is a time for giving and seniors are a target in many ways. Be very careful when you get that call or email that you won or earned or inherited money. They always ask you to send money before they send you money. WHY? They will not send you money, and the email comes from another country.
Do not give credit card numbers to anyone on the phone you do not know. Don't be fooled because of a name of a group asking for money. There are many charities and local organizations that could use your help.
Another item to be leery about is credit card offers. It seems everywhere you go to shop, they want to give you a credit card. Keep in mind hidden fees, late fees and interest rates you will pay.
You can stop credit card offers for five years by registering at www.optoutprescreen.com or call 1-888-567-8688. If you need a credit card, contact your local bank or credit union.
With a new year starting soon, please consider donating something more important than money….your time. According to Adam Lounsberry, who works out of Governor Terry Brandstad's office, Iowa ranks second in volunteer hours per population in the United States. In Iowa, you can call Kim Hatfield at the City of Davenport or Linda Nielsen at RSVP at (309) 793-4225 to volunteer.
On November 8, 2012 Generations recognized area senior and businesses who volunteer or work at companies who hire seniors. Many seniors do not let an age number stop them from making our country a great place to live!
If you know of a location that would like to distribute this magazine, please call 50+ Lifestyles at (563) 484-4195.
SALT (Seniors And Law enforcement Together) will not be meeting in December. Our next meeting is January 23 at 9:30 a.m. at CASI on Kimberly Road in Davenport. For more information, call Pam at (563) 326-8217.
Take care.
P.S. If you haven't noticed, there are five Sundays, five Mondays and five Saturdays this month. This only happens once in 800 years.
Tags: Charities, Christmas Is A Time, City Of Davenport, Credit Card Numbers, Email, Hatfield, Hutter, Late Fees, Law Enf, Lifestyles, Linda Nielsen, Local Bank, Lounsberry, Mail, Optoutprescreen Com, Rsvp, Seniors, Target, Volunteer Hours, Wonderful Time
Trackback URL: https://www.50pluslife.com/2012/12/02/on-the-go-with-joe-hutter-38/trackback/