December 2, 2012
PUBLISHER'S CORNER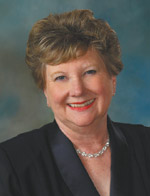 By Dee Deuth, CSA
Weerts Funeral Home
T'was a Night To Remember
T'was a night to remember
2012, 17th of November.
People were rushing to and fro
I, too, was excited, with my family in tow.
The iWireless center was alive and bold,
Filled with people rushing in from the cold.
Holiday Pops concert was almost to start,
I felt excitement deep in my heart.
I found my seat in the midst of the others,
There were fathers, grandpas, children and mothers.
They were smiling, some laughing; children jostling about,
Some shy and timid, others really quite loud.
The stage was aglow with décor of the season,
Christmas trees, ornaments, but all within reason.
When suddenly to my glee did appear
Symphony orchestra members toting their gear.
And then came the choir, all dressed in their robes,
The basses, tenors, sopranos, altos.
While holding their music, they each took their seat,
The stage was filled with musicians, almost complete.
House lights dimmed, a hush came over the crowd,
As the concert master appeared and played her violin out loud.
The orchestra joined her all trying to tune,
Certainly the concert will start very soon!
The Maestro arrived dressed in black tuxedo,
The audience clapped, as they knew "Here we go."
He raised his baton, to the players gave the signal,
And the downbeat of music made my whole being tingle.
"Holiday Pops" was now in full swing,
And I, for one, absolutely loved the whole thing.
The choir and orchestra, children's choir too,
The youth orchestra joining in, it's a really big crew.
Holiday music, a variety, for sure,
The lights changing colors, red, green, yellow, azure.
Mark Wood's Rock sounds, my feet keeping beat,
I can't say enough, it was all really neat.
A beautiful evening that ended too soon,
Now we must wait for many a moon.
The memory will linger, sweet and serene,
Until next year when we again "hang the green."
Dee Deuth
All of us at 50+ Lifestyles Magazine wish you a very "Happy Holiday Season." May you and your loved ones be blessed with good health, good friends and the opportunity to make good memories during this special time of year. Thank you for reading 50+ Lifestyles magazine!
Filed Under: Community
Tags: Beautiful Evening, Changing Colors, Christmas Trees, Deep In My Heart, Downbeat, Full Swing, Glee, Happy Holiday, Holiday Music, Holiday Season, Hush, Lifestyles Magazine, Orchestra Members, Robes, Season Christmas, Sopranos, Tenors, Tuxedo, Weerts Funeral Home, Youth Orchestra
Trackback URL: https://www.50pluslife.com/2012/12/02/publisher%e2%80%99s-corner-11/trackback/