December 2, 2012
Veteran Museum and Memorials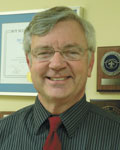 By Bob Morrison
Development Director of Ridgecrest Village
Two great stories of ways to appreciate our veterans are fresh in my mind. First, I just returned from a national
conference in New Orleans for our local chapter of ILLOWA Partnership for Philanthropic Planning. Our board works hard to promote philanthropy and help others through gift planning in the Quad-City area.
People told me not to miss visiting the WWII Museum while in New Orleans. Fortunately, I found time and "WOW." The museum filled two city blocks with WWII history, actual WWII equipment such as a tank, jeep, and videos. A trip through three floors gave me a real sense of the strategies and stories of each stage of the war, in both the Atlantic and Pacific.
A theater showed a 15 minute pre-movie to set the atmosphere of the war experience. Then Tom Hanks presented an emotional historical account of the war. I expected to applaud at the end but could not. Those in attendance were so overwhelmed by the solemn presentation they could not speak, only walk out in silence and in appreciation of the sacrifices of 16 million Americans, 400,000+ who did not make it back.
They are building two more buildings to house WWII airplanes, equipment, and educational materials. It is definitely worth your time if you have the chance to explore yourself.
Secondly, as Development Director for Ridgecrest Foundation, I have found our veterans to be generous in supporting each other and local non-profits such as Honor Flight of the Quad-Cities. We are happy to report totals for 2012. A total of 648 people were taken to Washington D.C. Of those, 361 were veterans, five were terminally ill, 10 used oxygen, and 184 used wheelchairs. The 287 support staff included medical personnel, media, and bus captains. About 200 volunteers not on the flights were a big help locally.
Our 21st flight on Thursday, November 8, 2012 was another success. Twenty WWII Veterans and 69 Korean War-time Veterans joined 73 Guardians including one local TV camera reporter. Our veterans then boarded three motor coach busses to visit the Enola Gay Airplane and Discovery Space Shuttle at the Smithsonian Institution – National Air and Space Museum. Then they enjoyed seeing the WWII Memorial, Air Force Memorial, Seabee Memorial, Women's Memorial, Tomb of the Unknown Soldier, Iwo Jima, Korean Memorial, Vietnam Memorial and Lincoln Monument.
Returning to the Quad-City International Airport, they found Whitey's Ice Cream waiting for them. Then a veteran's parade rode and walked past the security area to find over 400 family, friends, neighbors and local community waiting to welcome them home.
On Veterans Day, people nationwide celebrated the thousands of men and women who serve our country in the armed forces. Sadly, the ranks of World War II veterans are dwindling. The youngest are now in their late 80s, and the U.S. Department of Veterans Affairs estimates that of the more than 16 million people who served in the military during the war, fewer than 1.8 million remain. Many Honor Flight veterans have said about their comrades, "I've outlived most of them; I guess I'm fortunate to still be around."
Whether you experience the WWII Museum, the Honor Flight, or just run into a veteran and his or her family, use this occasion to remember that our freedom is not free. Thank a veteran for their service!
Tags: Bob Morrison, City Blocks, Development Director, Educational Materials, Fresh In My Mind, Guardians, Honor Flight, Jeep Videos, Korean War, Korean War Time, Memorials, Quad Cities, Quad City Area, Sacrifices, Support Staff, Tom Hanks, War Experience, Wwii Airplanes, Wwii Museum, Wwii Veterans
Trackback URL: https://www.50pluslife.com/2012/12/02/veteran-museum-and-memorials/trackback/