January 3, 2013
Celebrate National Get Organized Month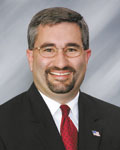 By Curt Ford
Nash Nash Bean & Ford
After the hectic pace of the holiday season, it is easy to understand why January has been designated National Get Organized Month. And, while a professional organizer would provide a list of household tasks to better manage your home, I think the same concepts can be transferred to the finanical and estate planning areas of your life. The following tips will allow you to get a step ahead of your plan and give the comfort of moving into 2013 knowing your estate plan is put in order.
• Get organized. If you've created important financial and estate documents over the years, you may be like most people and have a few papers in a kitchen drawer, a few in your home office and some others in a safety deposit box.
– Take the time to find all your important papers – powers of attorney, living will, HIPAA document, and will or trust – and create a master location list before re-filing in the appropriate locations.
– Review the forms to make sure they are up-to-date, reflect your current wishes and are properly labeled.
– Keep copies of your Powers of Attorney and HIPAA
documents in an easy-to-access location in your home, in case of an emergency.
• Have a conversation. We know it can be difficult to talk about estate planning issues with loved ones, but it may be one of the most important conversations you will ever have.
– Make sure your agents and beneficiaries know where you keep your estate planning documents in case of an emergency.
– Share your thoughts if you have specific wishes for care or services.
– If you have distributed your estate in ways that may be unexpected by your heirs, it is a good idea to discuss your reasons now to avoid bitterness later.
• Plan. If you haven't yet created your estate plan, now is the time to create your will or trust along with Healthcare documents with the assistance of a qualified estate planning attorney to protect yourself and your family.
Nash Nash Bean & Ford are members of the American Academy of Estate Planning Attorneys and the National Academy of Elder Law Attorneys. To receive a copy of our most recent newsletter "Your Estate Matters" or for a free consultation on Estate or Long Term Care Planning, call (309) 762-9368 or 800-644-5345 or
email at info@nashbeanford.com or visit our website at www.nashbeanford.com.
The firm devotes its practice primarily in the areas of estate, business and tax planning and related areas of the law, as well as elder law and trust administration and probate. We offer guidance and advice to our clients in every area of estate planning.
This column is designed for general information purposes only, and is not intended, nor should be construed or relied upon, as legal advice. Please consult your attorney if specific legal information is desired.
Filed Under: Finance
Tags: Amp, Beneficiaries, Bitterness, Conversations, Ford, Healthcare Documents, Hectic Pace, Heirs, Hipaa, Holiday Season, Household Tasks, Kitchen Drawer, Master Location, Nash, Powers Of Attorney, Professional Organizer, Safety Deposit Box, Share Your Thoughts
Trackback URL: https://www.50pluslife.com/2013/01/03/celebrate-national-get-organized-month/trackback/