January 3, 2013
Education is the Key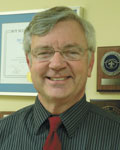 By Bob Morrison
Development Director of Ridgecrest Village
Have you given much thought to your future care needs, or are you invincible, like so many of us feel? Have you ever had an opportunity to talk with someone 90-plus years old, and they refer to people as "those old people?" It is so true these days; we just don't feel as old as we are. We look in the mirror and wonder, who is that older person looking back at us? When did your face change? Where did the wrinkles come from? I hear it time and time again, where did the time go?
You spent your youth working, raising children and contributing to the community. Time just flies by. Before you know it, you are over 50.
If you have reached that "over the hill" mark, now is the time to start thinking about your health and your future. Most likely, there will come a time when you won't be as independent and will have to ask for some help.
Make it easy on yourself and your loved ones. Start now to educate everyone about the options that are available right here in your own community. You live in a community rich in medical experts, renowned medical health centers and with so many choices for your health and well-being. Take advantage of all these, and plan your future so you will have the quality of life that you desire.
We are so fortunate, and yet, we all procrastinate until it becomes a "do it now" decision. Can you think back to a time that you were put on the spot and had to make a quick decision that later you regretted? Do you wish you would have given more time to look for options and learn what your choices were?
Education is the key. Explore your options now, while you are healthy and able to make smart decisions. Below are a few steps to take that will help you get started:
Step 1. Find resources – Flip through this magazine, search the internet or telephone book, ask friends or family; start to gather information. Make phone calls, ask questions, and check out what your community has to offer. You might be thinking "I don't even know what questions to ask." You are not alone. Everyone feels this way when they begin to research future life options. If you have access to the internet, search for topics such as elder healthcare, retirement housing, independent living or assisted living. At these websites, you will find sample questions to ask healthcare providers. This is a good place to begin. Once you have spoken with a few places, you will be able to direct your questions towards areas that are important to you. If you do not have access to the internet, call some of our commu-nity resources; Generations Area Agency on Aging (563) 324-9085 or CASI-Center for Active Seniors, Inc. social services department. (563) 386-7477. They have information that will help you get started.
Step 2. Talk to your loved ones that might be involved in your decision making process. Ask them how they feel about your future lifestyle needs. Have they given it any thought? Do they want you to live close to them? Find out if they know what your wishes are, or offer to help them understand what is important to you. Remember, this is not going to be a quick, easy decision. Be patient with yourself. There are a lot of things to think about. You are going to need a sounding board. Get them involved from the start. Let them know that you are planning ahead, so that they will not have to make decisions for you.
Step 3. Tour the communities and see what they have to offer. Make an appointment and talk to someone. Ask questions, observe the people that are living there. Do they seem happy? Ask yourself, what was the feeling I got when I walked in? Follow your intuition. Remember, don't make any assumptions about anyplace, go and tour. Give the different retirement communities an opportunity to present themselves to you.
Step 4. After your tours, arrange the communities in order of your preference, review the information, compare their amenities and services to your needs and wants. Does the community share the same values you have in your life? Are their dedications to your life style in harmony with your belief system? Are you going to get the care there that you will need?
Step 5. Pick the top three, tour those again, this time you will be armed with questions that will help you compare. You will be able to direct the meeting and focus on areas that are pertinent to your specific wants and needs.
Step 6. After touring them for the second time, arrange them in order again, pick the top two and go back again or call them.
Take the time to really investigate so you can make a well thought out and educated decision.
Step 7. Share this information with your loved ones as well as your Power of Attorney, anyone that will be helping you IF the time comes. Then give copies of your wishes to two other people you trust.
Remember, this is a gift for those special people in your life that are going to be there to support and help you if you ever need it. Your children and grandchildren will appreciate it!
Filed Under: Community, Personal Growth
Tags: Bob Morrison, Choices, Development Director, Education, Face Change, Future Care, Health Centers, Internet Telephone, Magazine Search, Medical Experts, Medical Health, Mirror, Options, People, Phone Calls, Quality Of Life, Smart Decisions, Step 1, Telephone Book, Wrinkles
Trackback URL: https://www.50pluslife.com/2013/01/03/education-is-the-key-2/trackback/