January 3, 2013
Happy New Year –It's January! – PUBLISHER'S CORNER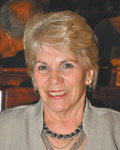 By Eloise Graham
January, a new beginning to a new year. As time marches on, I have been pondering the beginning of the new year… new beginnings. Isn't "new beginnings" an oxymoron? Have you ever heard of "old beginnings?" But, I digress – back to new beginnings.
Just what comes to mind when you hear that phrase? Maybe a newborn baby. That is definitely a new beginning. It's a new beginning for both the infant and the parents. Maybe you think of graduation from school. That is a new beginning. It could be new job, a new town or a new set of friends. Marriage is another new beginning.
Think back over your life at all of your new beginnings. The little things: meeting a new friend in school; tasting a new food your mom cooked; learning to tie your shoes; learning to ride a bike; oh, the list could go on and on. How about the big things: getting your driver's license; leaving home for college or a job; getting married; starting a family; that list could also go on.
It seems to me as we age, we forget the "excitement" of new beginnings and start to think of them as dreaded changes that take place in our lives. For those of us in the 50 plus group, we are experiencing what we often think of as an end. Perhaps the death of our parents, but isn't that really a new beginning? We are now the "head of the clan," so to speak. We often think of retirement as the end of our career. But, isn't it really a new beginning? It's a chance to travel, to pursue the dreams we had put off, to re-invent ourselves. Perhaps the death of a spouse, while totally devastating, isn't that a new beginning? We now start down a new life road. We may downsize to smaller living quarters. That is a new beginning, a fresh experience, a simpler life-style.
What new beginnings do you want to try this new year? Have you ever had the desire to paint a picture? Take an art class? You might be surprised at your hidden talent. Think of the appreciation you will gain for those that excel in the arts. Do you like music? Take some piano lessons or try an instrument or tune up that guitar you played a couple of decades ago. Do your grandchildren text and go on social media sites? Have them show you how it is done, and you can show them the lost art of written communication. That could be a new beginning for both of you and a great time of sharing.
The community colleges have many opportunities for continuing ed classes. The senior living facilities have numerous programs for new experiences for you. CASI (Center for Active Citizens) and the YMCA have many programs available to you to try at a nominal fee.
Don't make up your mind that you can't try new things. You will be right. "CAN'T" never did anything. Try the new beginnings. Maybe what you try won't work the way you thought it would, but then try another.
Now, go out and make January a new beginning to a new you in the new year!!!
Filed Under: Personal Growth
Tags: Art Class, Death Of A Spouse, Eloise, Excitement, Graduation, Happy New Year, Learning To Ride A Bike, Leaving Home, Life Style, Living Quarters, New Beginnings, New Food, New Friend, New Job, New Year, Newborn Baby, Old Beginnings, Oxymoron, Retirement, Time Marches On
Trackback URL: https://www.50pluslife.com/2013/01/03/happy-new-year-%e2%80%93it%e2%80%99s-january-publisher%e2%80%99s-corner/trackback/