January 3, 2013
Max's Musings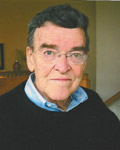 By Max Molleston
O.K. How many of us have used 2012 on significant
documents, like checks, while paying bills from Christmas enthusiasm? Here we are in another year and grateful for it, or disturbed at some consequences we fear. Whatever the feelings, we launch into this year hoping for the best, setting aside some of those things that worry us until we have to take action.
As a long-time newsman, I scoop in most of what I read in the papers I get, and sometimes from the worldwide web. Recently, I soaked up the garment factory fire in what used to be called the Orient. Workers were burned to death behind locked doors. It is a stern reminder of the shirtwaist fire a century ago, which took the lives of nearly 150 people, mostly girls. This event is remembered for us by Union folks who will not, and should not, let garment wearers forget the crummy conditions that release most of the day-to-day clothing we wear.
I introduce you to robert Pinsky, a former U.S. poet laureate. Pinksy, accomplished and widely recognized as one of this nations' leading poets, has also been a professor in one of the Ivy League schools for quite awhile. We are closer to Pinsky because he visited the Quad-Cities a few years back at the invitation of the Bettendorf Library board of Directors. His poem takes us back to that Triangle shirtwaist factory fire. Pinsky sets the stage like this:
The back, the yoke, the yardage. Lapped seams,
The nearly invisible stitches along the collar
Turned in a sweatshop by Koreans or Malaysians
Gossiping over tea and noodles on their break,
Or talking money or politics while one fitted
This armpiece with its overseam to the band.
He goes on…
The witness in a building across the street
Who watched how a young man helped a girl to step
Up to the windowsill, then held her out
Away from the masonry wall and let her drop.
And then another, as if he were helping them up
To enter a streetcar, and not eternity
A third before he dropped her put her arms
Around his neck and kissed him.
Then he held her into space and dropped her.
Almost at once he stepped to the sill himself,
His jacket flaired and fluttered up from his shirt
As he came down, air filling the legs of his gray trousers—
I pass along a poem like this and others to give you readers the flavor, when space prohibits the entire poem. The poem is arranged in stanzas of three lines and contain 16 stanzas. This poem, titled Shirt, which one would not connect to much value, polishes the human values of love and death at its core, and Pinsky cradles these in some history and processes that go together when shirt parts become a garment. Pinsky knew we needed emotion to develop, even as the poem designed itself. Here is where poets like Pinsky and others excel. Glazing our eyes and minds with a process that makes a shirt while feigning to hide the huge emotional pictures he lets the language portray. This turns out to be the message. Read Robert Pinsky! Shirt can be found in its entirety on line. The poem pays homage, not only to the Triangle Shirtwaist Fire of 1911, but to all sweatshops and 'slave' labor of the clothing industry.
February may be mushy, even underfoot. You are invited to return here then.
Filed Under: Personal Growth
Tags: Bettendorf Library, Garment Factory, Ivy League Schools, Koreans, Library Board, Locked Doors, Malaysians, Masonry Wall, Poet Laureate, Quad Cities, Seams, Stern Reminder, Streetcar, Sweatshop, Triangle Shirtwaist Factory, Triangle Shirtwaist Factory Fire, Union Folks, Windowsill, Worldwide Web, Yoke
Trackback URL: https://www.50pluslife.com/2013/01/03/max%e2%80%99s-musings-40/trackback/