January 3, 2013
On the Go With Joe Hutter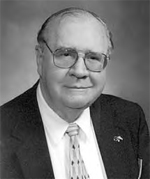 Seniors And Law
Enforcement Together (SALT)
By Joe Hutter
Yes, we made it to another year. Many after Christmas sales are now taking place. Make sure you buy items from a reputable seller. If you see an ad in the paper you like, take it to the store with you.
If you got a gift card in Iowa, it is good for five years after it was purchased. If you have a problem with a gift card, notify the Attorney General's Office at 1-888-777-4590.
Be careful when buying on the internet. Pay by credit card. Do not give anyone your personal information.
If you buy prescription drugs on line, or any drug, there is a risk. The drug vendor might not be a
pharmacy, and the pill might contain the wrong ingredients for you or could be contaminated. Be very concerned if you can get a drug without a prescription. For more details, go to www.fda.gov/BeSafeRx.
Be wary of letters you may get saying you are a winner. You could get emails, too. They will ask you to send personal information to prove who you are or ask you to pay a processing fee. Before you respond, call your local law enforcement agency.
There appears to be more and more ways seniors are becoming victims of crime. Do not let strangers into your home. Make sure they have identification with a picture and a uniform. If in doubt, call your local law enforcement agency. You are not charged a fee, and they are there to help you.
The S.A.L.T. (Seniors And Law Enforcement Together) Group is meeting January 23, 2013 at 9:30 a.m. We meet at CASI on Kimberly Road in Davenport. No dues or commitments. All area law enforcement agencies are involved.
If your senior center or senior group would like some entertainment and education, call Pam. This year we hope to have a piano and accordion player to entertain you, and a law enforcement officer to educate you about scams and answer any questions. It is free and fun. Listen to your favorite old time music.
If you would like to have our program, call Pam at the Scott County Sheriff's office at (563) 326-8217. I am looking forward to meeting you as I plan to attend as many programs as possible.
Take care.
Filed Under: Community, Finance
Tags: Accordion Player, Christmas Sales, Commitments, County Sheriff, Davenport, Gift Card, Hutter, Kimberly Road, Law Enforcement Agencies, Law Enforcement Agency, Law Enforcement Officer, Offi, Old Time Music, Pam, Prescription Drugs, Scams, Senior Group, Seniors, Victims Of Crime, Wrong Ingredients
Trackback URL: https://www.50pluslife.com/2013/01/03/on-the-go-with-joe-hutter-39/trackback/