January 3, 2013
Our pets are part of the family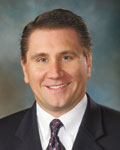 By David W. Deuth, CFSP
President, Weerts Funeral Home
While I've heard from many of you since I began writing monthly articles eight or so years ago, there has been no greater reader response than when I shared about the death of our good friend "PT." The phone calls, emails and even sympathy cards from people I've never met provided thoughts of support and encouragement that were so meaningful and deeply appreciated.
PT (short for "Puddy Tat") was our tabby cat. And, he was my good buddy. We adopted him not too long after we moved to the Quad-Cities, and we quickly learned the uncanny certainty in that old saying: "dogs have owners; cats have staff." PT, we decided, let US live with HIM in OUR house…
Those of you who recall the story (more than five years ago now) will remember that I brought PT back to the funeral home when he died; we had a little family visitation so we could say our final good-byes. The next day, on a picture-perfect September afternoon, I buried PT in the PetLand section at Oakdale Memorial Gardens in Davenport. Just last week, I paid him a visit there, amazed that five years have since passed. I still miss him…
The bond between people and their pets is really quite extraordinary. We learned this all over again recently, when we had Linda's brother's dog (a wonderful little Shih Tzu) at our house for several months, while her brother and his family relocated back to the U.S. after a four-year Navy stint in Japan. After having "Lilo" with us for nearly four months, we found that we were quite challenged to say good-bye when the time came to reconnect her with her own family again!
Saying goodbye as we returned Lilo back to her own family was hard enough; saying goodbye when a pet has died is positively heart-wrenching. Having helped families as a funeral director for well over 20 years now, I can assure you that I have shared many a tear-filled conversation with people about the loss of their pets – and the unconditional love and joy that those pets brought to their lives.
This tremendous bond between people and their pets – and the challenges we all face when our pets die – has compelled me to establish a new pet cremation service in Bettendorf. We offer in-home visits to pick up a pet that has died, as well as a cooperative arrangement with many area veterinarians, veterinary clinics and animal hospitals. We intend to provide a new standard of care and respect for pets when they must leave us. After all, pets are part of the family, too.
Our new facility incorporates a peaceful place to spend a few minutes for a meaningful good-bye, and our respectful procedures and protocols underscore my intent to provide every measure of care and compassion to these special members of the family – just like we've done for over 100 years through the funeral home.
Pets ARE a part of the family – and we'll be here when you need us to take good care of them, too.
Remember Well.
Tags: Cats, Cfsp, Davenport, Encouragement, Family Visitation, Four Months, Funeral Director, Good Bye, Good Byes, Good Friend, Lilo, Memorial Gardens, Navy, Quad Cities, Reader Response, Shih Tzu, Stint, Sympathy Cards, Tabby Cat, Weerts Funeral Home
Trackback URL: https://www.50pluslife.com/2013/01/03/our-pets-are-part-of-the-family/trackback/