January 28, 2013
A Table for Two for Valentines Day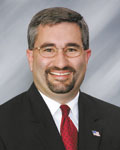 By Curt Ford
Nash Nash Bean & Ford
Every year for Valentine's Day, Virginia and John shared the same special routine: instead of going out for dinner, they booked a table at their favorite restaurant for lunch, and then celebrated at home with their children, ending the evening by sharing a box of premium chocolates from a local candy
company.
As their children grew up and eventually left home, their routine changed somewhat, but they still celebrated their Valentine's Day with that special lunch and that treasured box of chocolates.
So one year, Virginia was surprised when John announced a change of plans: they still had a reservation, but this year it was at their attorney's office. As John told his wife of many years, "This year I'm giving you the greatest gift – the gift of security. We're going to complete our estate plan this year."
John understood that while his annual meal and chocolates were as a great way to show his wife he loved her, an even better way to show his love was by by completing an estate plan that would:
• Minimize the impact of a disability or incapacity
• Avoid probate
• Protect their children from creditor and predators
• Create a non-financial legacy
To protect themselves and their family in case of a disability, John and Virginia created advanced medical directives including a Living Will, a Health Care Power of Attorney and HIPAA documents, all which allow a person they named to serve as agent, to discuss their health care and make decisions for them if they were unable to make those decisions themselves. By creating these documents before a medical emergency, they gave their family peace of mind and direction.
They also created a revocable living trust. With a trust, they were able to transfer their assets into the name of the trust, which they control. By having their assets in trust, they not only maintained privacy by avoiding probate, but also gained additional control of how, when and under what circumstances their assets may distributed to their heirs.
With their documents in place, John and Virginia returned to their Valentine's Day routine, their lunch and their chocolates. This annual event was only one of many routines and traditions they had built with their family. With their plan in place, they knew those happy memories would be what their children would remember long after they were gone, not a series of disagreements over the chaos they left behind.
Nash Nash Bean & Ford are members of the American Academy of Estate Planning Attorneys and the National Academy of Elder Law Attorneys. To receive a copy of our most recent newsletter, "Your Estate Matters" or for a free consultation on Estate or Long Term Care Planning, call (309) 762-9368 or 800-644-5345 or email at info@nashbeanford.com or visit our website at www.nashbeanford.com.
The firm devotes its practice primarily in the areas of estate, business and tax planning and related areas of the law, as well as elder law and trust administration and probate. We offer guidance and advice to our clients in every area of estate planning.
This column is designed for general information purposes only, and is not intended, nor should be construed or relied upon, as legal advice. Please consult your attorney if specific legal information is desired.
Tags: Avoiding Probate, Box Of Chocolates, Candy Company, Creditor, Disability, Family Peace, Favorite Restaurant, Health Care Power, Hipaa, Incapacity, Medical Directives, Medical Emergency, Nash, Peace Of Mind, Power Of Attorney, Predators, Premium Chocolates, Revocable Living Trust, Valentine Day, Valentine S Day
Trackback URL: https://www.50pluslife.com/2013/01/28/a-table-for-two-for-valentines-day/trackback/