January 28, 2013
Confidence Comes from Caring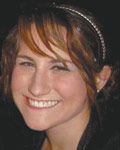 By Lauren Ribando
Augustana College Student Intern
Child Abuse Council
Be strong. Be confident. Make a difference in your world. These are statements we are told to live by. These statements motivate and encourage people to be progressive and creative in their life choices. The phrases promote high self-esteem, which increases the chances of positive growth and character development over time. Similarly, a child with high self-esteem is more likely to thrive and reach for positive goals and dreams.
Studies continually show that caring for a child helps them to develop more positive levels of self-worth and confidence. According to Livestrong author Shelley de Soto, the number one way to increase a child's self-esteem is through time and affection. "Show the child that you care by giving affection and attention.
Let the child know how much you care by telling him that you care. Celebrate accomplishments and give praise for even small successes," said de Soto, of the impact of acts of caring.
Showing that you care is a simple way to drastically improve the quality of life that the child in your life leads. High self-esteem is motivating and empowers children to take care of themselves in positive ways. Children who perceive affection from the adults in their lives are more likely to feel confident and prepared to face day to day challenges.
Some ways to show children that you care for them and are interested in their well-being are to:
• Ask questions about your child's life: Questions show that you are interested in the activities that children are doing. This demonstration of attention shows children that their actions are meaningful.
• Tell your child that you care: This seems like an obvious statement, but too often adults forget that letting people know you care can make a big difference in anyone's life. For a child, knowing their parent cares is crucial in their development of self-worth.
• Celebrate your child's accomplishments: By giving praise to small successes and large ones alike, you are encouraging your child to celebrate good choices and reach for goals that will have positive effects on their lives.
Demonstrating that you care is a simple way to help your child develop into a strong and confident individual. The connections of love that are made between a child and their mentors are strong. These bonds help to encourage the growth of an equally strong and confident child.
With Valentine's Day right around the corner, think of positive ways to show the children in your life that you care. Leave a note in their lunch box, grab an ice cream cone when they ace their math test, give them an extra hug during the day. These little actions of love will be remembered, and they will help your child become more self-confident and strong as they continue grow. Acts of love are simple but make a huge difference in our lives.
For more information about the Child Abuse Council's prevention and education programs, you can visit us at www.childabuseqc.org.
Filed Under: Family
Tags: Acts, Adults, Affection, Augustana College, Author Shelley, Challenges, Character Development, Child Abuse Council, Demonstration, Goals And Dreams, Life Choices, Life Questions, Phrases, Quality Of Life, Self Confidence, Self Esteem, Self Worth, Student Intern, Successes
Trackback URL: https://www.50pluslife.com/2013/01/28/confidence-comes-from-caring/trackback/