January 28, 2013
In and Out of the Quad-Cities: The GAONI's
Contributed by Gail McPike and Toni Hall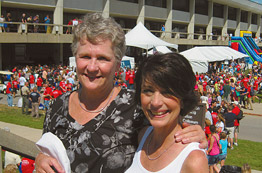 Gail and Toni Present – 15 Minutes of Shame, (I mean Fame) the GAONI's
Recently, we noticed this time of year has become "the award season." First came the Hollywood Foreign Press Association's Golden Globes, then the Grammys, the People Choice Awards, the Screen Actors Guild, the CMT and MTV awards, American Theatre Wing's Tony Awards (we think they called them this on purpose to confuse with our Toni) and tons of others. And all of this is followed by the grand-daddy of them all, the Academy Awards – with their shiny Oscars.
By the time you've had a chance to peruse this little gem of joshing journalism, you have probably seen more red carpets than a dozen worn out rug doctors. The lady readers amongst you can rattle off the names of a peck sack full of fancy-schmancy dress designers with names we won't even try to spell.
Not to be outdone by a batch of monocle-clad guys with bad accents, we decided to establish our own award. Brought to you by 50+ Lifestyle's Dynamic Duo of pink beat journalism, this award covers topics too cutting edge for other associations. Dubbed by Gail and Toni as the GAONI (pronounced gay-oh-nee), the top secret results are tabulated at a corner table of a local coffee shop and sealed with our very own
caffeine stained fingers – until this very moment (add a finger drum roll here if you are fidgety kind).

The very first GAONI…
Set in the poor neighborhoods of Paris during tumultuous years following the French Revolution, Victor Hugo's masterpiece Les Miserables was required reading way back when we were sporting bouffant hairstyles and poddle skirts. Later, it was turned into a Broadway musical. Over the years, we've seen the theatrical production at least a half dozen times and each presentation brought forward the abject pain and misery endured by the characters.
This year, the movie version was finally released and it touched the hearts of millions of viewers. It is impossible to see this film without crying – period. We are not exaggerating when we say, we've seen hardened men bawl like babies. Everyone casts a few tears, except for one human being.
Our GAONI for being the man who never cries goes to Current Trophy Husband Frank.
This is a man, who shed not a single drop when Old Yeller died, snickered when Bruce Dern killed John Wayne in Cowboys, and munched on popcorn though the saddest scenes of Les Mis. Truly no other person deserves our unique honor.
The Second GAONI goes to …
Moving on to our next award, can we talk about holidays and special days? This time of year is brim full of celebrated days. Starting with New Year's Day, Epiphany, Martin Luther King Day and jumping forward to Valentines, Fat Tuesday, Presidents' Day, Sadie Hawkins, Saint Patrick and Josepha, it's quite a line up.
But, one day stands head and shoulders above the others in colorful obscurity. Recently, we met with groups of spinners from up and down the Mississippi (Clinton to Muscatine and beyond) to celebrate this day. We rendezvoused at the LeClaire Library for a formal observance.
This year's GAONI for obscure days goes to Distaff Day, the celebration of spinners throughout the old country. The distaff is a part of the once common spinning wheel where the unfinished fiber is kept organized until it is transformed into yarn. Historically, the distaff was the symbol of women's work around the home and Distaff day marked the ladies return to work after the 12th day of Christmas (Epiphany). We think Distaff Day earned this award for two reasons. First, it doesn't mark a holiday, it marks getting back to work; kind of like celebrating the Monday following Super Bowl. Secondly, the day smacks of a 100 years of male chauvinism. Just try to celebrate us going back to our housework; if you want smacked.
So, GAONI Number Two goes to Distaff Day, the super Monday of Spinning Guilds across the civilized world.
These aren't the only GAONI's…
Time and space limitations hinder our ability to formally present to everyone. So, just like the Oscars for the best catered box lunch on a movie set in South Hollywood, these GAONI's are presented in non-prime time celebrations. However, let us name just a few.
The award for coolest wedding anniversary goes to Toni and Phil's St. Valentine's Day. In the neo-modern folklore of Davenport's East Village, Cupid wears a cool crimson sport coat and flies from place to place in a vintage Continental – but that's another story. GAONI goes to Valentine's Day.
GAONI awarded for the best Mardi Gras in the Midwest goes to St. Louis, Missouri's Fat Tuesday on Saturday celebration on February 9. The Grand Parade will last three hours and have more plastic beads than all the Woolworth's in Oklahoma.
The prestigious GAONI for best whisky fruit salad under three dollars goes to Davenport's own Boozies' Bar and Grill. A perennial winner, this could result in a life time achievement award in a few years.
The final GAONI, for most tolerant editor in a Quad-Cities News Magazine, goes to none other than the fine folks here at 50+ Lifestyles. Give us a gold star for sucking up.
Happy February and a great Valentine's Day everyone.
Filed Under: Humor
Tags: Bouffant Hairstyles, Broadway Musical, Cmt, Dress Designers, Foreign Press Association, Golden Globes, Grand Daddy, Hollywood Foreign Press, Hollywood Foreign Press Association, Mcpike, Mtv Awards, Pain And Misery, People Choice Awards, Poddle Skirts, Poor Neighborhoods, Red Carpets, Screen Actors Guild, Theatrical Production, Tony Awards, Victor Hugo
Trackback URL: https://www.50pluslife.com/2013/01/28/in-and-out-of-the-quad-cities-the-gaoni%e2%80%99s/trackback/