January 28, 2013
Max's Musings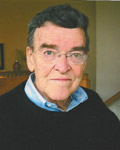 By Max Molleston
I don't know if you could call February "the sweet month," but I will propose it be so. Sweet mainly for St. Valentine's Day, and also, I say, for the February thaw, a key signal for a coming change to spring. This month, I am giving you a poem I consider sweet. This is by poet John McBride, who makes his home in Bettendorf. McBride, a writing colleague of mine and others in the Quint Cities Poets Society based at the Bettendorf Library, submits some of his poems to contests around the U.S. and is an award winner for those efforts. Here is one he composed in the first years of this century, titled, "If I could Play the Piano and You the Violin."
Were you and I to play a fugue tonight,
Piano and violin, and the rain outside
In chorus with the last chords I'd strike,
And I stood there thinking how best to confide

That other melody my heart was playing
All along, when I seemed happy enough playing this,
I would not know very well just what I would be saying,
But there would be some thoughts you could not miss

In the way of love and you, and you would know
Because you are intelligent, beautiful, fine and rare,
Why stammering I would try to open my heart and show
To you only that unwritten music hidden there.

Then hearing me out, "Such lovely phrases," you'd say,
And with your deft hands, lift your bow and play.
All of John McBride's poetry I have heard and read has been ready for a contest. McBride, a PhD in English and professor plus administrator at the University of Iowa, and with a Master's Degree from that University School of Social Work, knows effort. Just think back, and we 50+ers are good at that, about your feelings on St. Valentine's Day, maybe a half-century ago, or longer. Maybe you married the object of your affection. Maybe you can feel how it was for you and have some fun remembering. Those of us who moved our marriages into family will have maybe a dozen cards or candies to send those we love. Love makes actions we take full of fun and pride and admiration. It is a bonus we gladly pay out and get back with an embrace, the recognition of who we are and who we love. When the pleasant thoughts and actions run past us this month, and we get that February thaw, it will be time to get to those seed catalogues and plan for blossoms in the spring. Spring is always full of hope, and I hope you return here next month.
Filed Under: Personal Growth
Tags: Affection, Award Winner, Bettendorf Library, Candies, Deft Hands, Dozen Cards, February Thaw, First Years, John Mcbride, Musings, Poet John, Poets Society, Quint, School Of Social Work, St Valentine, Stammering, University Of Iowa, Valentine Day, Valentine S Day, Violin
Trackback URL: https://www.50pluslife.com/2013/01/28/max%e2%80%99s-musings-41/trackback/