January 28, 2013
P.E.O. Chapter LH Makes Donation to Jason's Box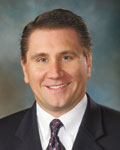 By David W. Deuth, CFSP
President, Weerts Funeral Home
Local PEO Chapter LH made their Christmas donation to Jason's Box, an organization under the umbrella of the non-profit Trinity Health Foundation. In previous years, the PEO Chapter exchanged Christmas ornaments with each other at their December meeting. Chapter President Margi Smidt explained, "While that was very enjoyable for our members, several years ago we decided we could put that money to better use by adopting a local charity to make donations to in the spirit of Christmas. After hearing a presentation about "Jason's Box" from board member Sherri Behr DeVrieze, the group decided to adopt that organization for our Spirit of Christmas Project."
Jason's Box began after April 10, 2009, when a local soldier, Jason Pautsch, was killed while on active duty in Mosul, Iraq. Following the funeral and burial of Jason at the National Cemetery at Rock Island Arsenal, Jason's mother, Teri Johnson, decided to put her grief into giving to others by establishing an organization, naming it "Jason's Box." The name comes from a beautiful walnut chest given to her by a Lieutenant Colonel with a heart for God and soldiers, in which she keeps mementoes from Jason's military service.
The story behind "Jason's Box" inspired Teri to keep giving and to send special gifts from home to our troops deployed around the world. It all starts with a thank you card on which they can request items they need or want. They return that card to Teri, who then custom-prepares a package and sends it to them free of charge. The response from the military men and women has been great, both in requesting items and in their grateful notes of appreciation once they have received a package.
The PEO Chapter members reviewed the list of often requested items, purchased some of them and brought them to a meeting. Items donated included bags of candy, small games, gum, AA batteries, soaps, books, magazines, crossword puzzle books, breath mints, dental floss, shaving cream and razors, body lotion, foot powder and feminine products. In addition, some members provided money totaling $230.
Phase II of the "Jason's Box" mission, which is to improve the health and well-being of our military men and women, is a behavioral health initiative. In partnership with local mental health providers Robert Young Center for Community Mental Health and Vera French Community Mental Health Center, as well as veteran support groups in the Quad-Cities area, they are identifying resources and treatment options for troops, veterans and their families experiencing the harmful effects of behavioral health issues such as PTSD and Traumatic Brain Injury. This community initiative is now called "Jason's Box." They are also working toward reducing the barriers to troops and veterans, who will benefit from treatment and coordinating training for physicians, nurses, other healthcare providers, pastors, chaplains, social workers and others who might have the opportunity to come into contact with returning troops and veterans experiencing issues from their military service.
If you would like to make a monetary donation to support this mission, make a check out to Trinity Health Foundation with "Jason's Box" in the memo line and mail to 2701 17th Street, Rock Island, IL 61201, or donate online at www.jasonsbox.com/contribute and make sure to check "Jason's Box" under Gift Details. (309) 737-3054.
Filed Under: Community
Tags: Aa Batteries, Cfsp, Chapter Members, Chapter President, Christmas Ornaments, Christmas Project, Lieutenant Colonel, Margi, Military Men, Mosul Iraq, Project Jason, Rock Island Arsenal, S Box, Small Games, Smidt, Special Gifts, Spirit Of Christmas, Teri Johnson, Trinity Health Foundation, Weerts Funeral Home
Trackback URL: https://www.50pluslife.com/2013/01/28/p-e-o-chapter-lh-makes-donation-to-jason%e2%80%99s-box/trackback/