January 28, 2013
Remembering Sandy Hook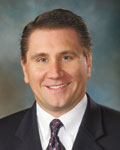 By David W. Deuth, CFSP
President, Weerts Funeral Home
The teachers, staff and students went to school as they always did. Christmas was but days away, and there was much to do. There was still rehearsal for the Christmas program and planning for the classroom parties, opportunities for the kids to dress up in their holiday finery. A few more snowflakes had to be cut from folded sheets paper and hung from the ceiling.
Just a couple more things on the grocery list . . . finish baking the holiday treats . . .and the Christmas cards – can't forget to get them out on time this year . . .
And suddenly the rush and the wonder and the splendor and the joy of the holiday season in Newtown, Connecticut vanished in an instant as the horrific shots began to ring out through the Sandy Hook Elementary School. Claimed in the wake of the heinous violence were the precious lives of 22: students – young children – and teachers alike… the collective heart of every American broken, the entirety of humanity's spirit crushed.
Married as I am to a first grade teacher, my mind reeled as I heard the news. Parents, students and educators across the nation now have drills for something we didn't even think about when I was in school: "lockdown." And "Columbine," once known primarily as a beautiful flower, is now irrevocably associated with massacre in the minds of most Americans. Sadly, so is Oklahoma City, Virginia Tech, The Aurora theatre, and 9/11.
Before Sandy Hook could go on "lockdown," the killer had completed his rampage, his victims mainly children.
These very brave children represent a future generation. Opportunity. Leadership. American pride. The fullness of their lives yet ahead of them, the innocence of their youth yet enjoyed but one day earlier as the sounds of the playground would surely testify. Their hopes and their dreams, their ambitions and their successes never to be realized, their future contributions to society and the common good of mankind . . . all snuffed out as candles in the wind.
The heroic teachers represent a present generation. With superhuman selflessness, they laid down their own lives to protect the lives of their precious students . . . selfless acts of love and courage and inestimable devotion. The depths of the Scriptures come quickly to mind: "Greater love has no one than this, than a man lay his life down for his friends."
The Rotary Clubs of the Quad-Cities region came together recently to reflect and remember and honor these 22 American heroes. Assembling with others from throughout the QCA on a very chilly January evening, we huddled in the stands at Modern Woodmen Park to pay homage to these people we've never known. Songs were sung. Names were read. Silence observed. Prayers were prayed. Oh, that we would continue to pray for these families and the very long road ahead of them. . .
Part of our purpose in gathering that chilly evening was to raise funds for these families. If you could consider a contribution to the Sandy Hook community – it need not be large – you will join in the spirit of "Service Above Self", a spirit championed by over 1.2 million Rotarians around the globe. We see "Service Above Self" as doing good where good is needed. Doing the right thing…for the right reasons. And helping others when they need it, whether that need is around the block or around the world.
Contact any Rotarian you know or visit any local club's website to learn how you can participate. One hundred percent of all raised funds will go directly to the Sandy Hook Rotary Club to be used as most needed in a community that desperately needs the ongoing support, encouragement and prayers of an entire nation.
Whether or not you can offer financial support, I trust that you will join us with your ongoing prayers for those affected by this tragedy. They need that perhaps more than anything.
Let us continue to honor these brave students and teachers and their families. They represent the best of their generations. And they represent the best of all of us as Americans.
We shall Remember Well.
David W. Deuth, CFSP is a funeral director and the owner of Weerts Funeral Home in Davenport.
He can be reached at 563.424.7055 or by email at Dave@WeertsFH.com.
Filed Under: Personal Growth
Tags: American Pride, Aurora Theatre, Beautiful Flower, Cfsp, Christmas Cards, Christmas Program, Classroom Parties, Collective Heart, Future Generation, Grade Teacher, Grocery List, Holiday Finery, Newtown Connecticut, Precious Lives, Rampage, Sandy Hook, School Lockdown, Snowflakes, Virginia Tech, Weerts Funeral Home
Trackback URL: https://www.50pluslife.com/2013/01/28/remembering-sandy-hook/trackback/